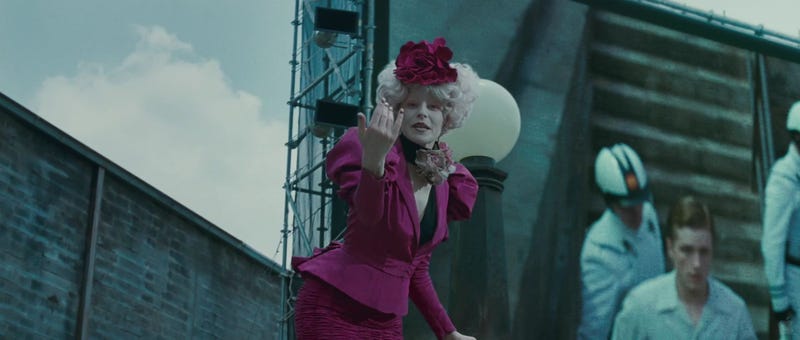 When we try to imagine the world after an apocalypse, we often end up thinking of a particular era from history. It's not surprising — because the end of the world as we know it often means we'll lose a lot of the fruits of progress. People often talk about bombing someone "back to the Stone Age," for example.
But what's amazing is how often the apocalypse leaves people living in a very specific historical period. Like the nineteenth century, or the late Renaissance. Here are 22 stories about an apocalypse that rolls back the clock.
It's sort of fascinating to think of an apocalypse as being like a time machine, taking us back to a particular moment in history. It plays into our sense of nostalgia for allegedly simpler times. And it appeals to our vague notions that history goes in circles, rather than in a straight line.
The Hunger Games
This is sort of an edge case — there's been a nuclear holocaust, but high technology still exists, and the Capitol has access to all sorts of amazing toys. But nevertheless, the nuclear devastation has turned America into the Roman Empire. Everybody lives in "Panem" (from "Panem et Circenses") and most people in the Capitol have quasi-Latin names, plus the Games themselves are clearly the Roman Coliseum writ large. But the Gary Ross movie adds more layers of anachronism, casting the outer districts as trapped in the 1930s Dustbowl era, and turning the Capitol into a kind of 1970s glam-rock festival. But Effie Trinkett is sort of 18th century. It's kind of awesome.
Revolution
Too soon to tell, maybe, but NBC's new show created by Eric Kripke and J.J. Abrams takes place in a world where all forms of energy have stopped working — and 15 years later, everybody is sort of living in the mid-19th century, including wearing a lot of buckskin and living in small towns.
Emberverse, or Change World
Just like in Revolution, a catastrophic event called "The Change" causes electricity, internal combustion engines, explosives, etc. to stop working in S.M. Stirling's novels. In the wake of losing 600 years worth of technology, various communities spring up. One of these is a neo-feudal empire in what was once Portland, run by a former medieval history professor and member of the Society for Creative Anachronism. Another is a piratical neo-Viking outpost on the coast of Maine. And yet one more is a clan-based system in the Willamette Valley. People begin traveling by horse, constructing catapults with truck suspension systems, and heeding visions that say things like, "Travel from sunrise to the sunset, and seek the Son of the Bear Who Rules. The Sword of the Lady waits for him." It's neo-everything.
The Postman
This is another one where everybody's suddenly in the 19th century, with the small towns and the old-timey clothes and the simpler way of life and the militia roaming around. It's sort of Civil War-looking. See also: The Book of Eli, which has a similar frontier vibe.
The New Magic Series
These books by Pamela Service take place in a world that's been devastated by nuclear weapons — and it's the Middle Ages again! Not only that, but King Arthur has awoken from his endless slumber, and Merlin and Morgana le Faye are also running around doing magical stuff.
The King Awakes
Janice Elliott's novel also tackles the idea of King Arthur waking up in post-apocalyptic England, and everything being medieval all over again. There's a legendary tower, which turns out to be something like an old BBC broadcasting tower. Starting to think "post-apocalyptic King Arthur novels" is a whole genre.
The Last Wizard
Simon Hawke's novel is yet another one in which an ecologically devastated future England sees the return of Merlin — and the rebirth of magic. It's the Second Thaumaturgical Age. Merlin and Morded are running around a future eco-disaster world, fighting the Dark Ones, a bunch of evil necromancers.
Doomsday
In Neil Marshall's amazetastic cult movie, there's a plague apocalypse in Scotland, and randomly a
ton of people start wearing suits of armor and living in a castle and being medieval. Why? It's something to do with Malcolm McDowell. That pretty much explains everything. Imagine if Malcolm McDowell decided to take over the SCA — he'd be unstoppable.
Incarceron
In Catherine Fisher's duology, there's been some sort of unspecified apocalypse, and now everybody is forced to live in the 18th century. The verge of the Enlightenment, sort of. And they're "forced," as in breaking out of 18th century technology and social norms is punishable by death.
Julian Comstock and Liberation
Both these novels by Robert Charles Wilson and Brian Francis Slattery came out around the same time, and they both very much take place in an America whose collapse has driven the world back to the 19th century. Including slavery, which is a huge feature of Liberation. In Wilson's novel, the 19th century touches are even more pronounced, with neo-Darwinians facing off against religious zealots.