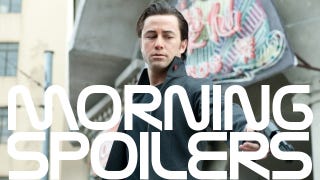 The Robocop reboot adds quite possibly the most versatile actor on the planet to its cast. Iron Man 3 gets a huge budget increase after the success of The Avengers. True Blood's long-term future might be secure. Plus Amazing Spider-Man photos!
All that plus Bruce Willis says Looper will be totally amazing, Nick Frost talks about The World's End, The Dark Knight Returns is getting an animated adaptation starring the original Robocop, and Ryan Murphy reveals all about the totally new season of American Horror Story!
Spoilers from here on out!
Top image from Looper.
Iron Man 3
Proving that Disney has officially learned everything from The Avengers and absolutely nothing from John Carter, the third Iron Man movie is getting a much bigger budget - instead of the original $140 million, it's going all the way up to $200 million. Let's just hope viewing audiences are still feeling good will towards The Avengers and have completely forgotten the mild disappointment of Iron Man 2, I guess. [/Film]
---
The Amazing Spider-Man
Here are promo photos of Emma Stone as Gwen Stacy. [Coming Soon]
---
The Dark Knight Rises
Here are the first two TV spots for this movie — one focused on Bruce Wayne trying to get "back in the game." (What that means is anybody's guess.) And one focused on Catwoman. [Thanks Sean!]

---
Total Recall
Here's a clip from the upcoming reboot that aired during star Kate Beckinsale's appearance on Ellen. [Coming Soon]

And here's the first TV spot. [Coming Soon]

---
Looper
Star Bruce Willis confirms what we all were hoping/pretty much had already assumed - Brick director Rian Johnson's time travel epic, in which Willis plays the target and older self of temporal assassin Joseph Gordon-Levitt, reaches ungodly levels of awesome:
"It's better than anything I've ever done…Rian did an amazing thing. He conceived an original story. He wrote it, sold it, stuck with it, directed it, and finished it. That's just tough to do in this town. Someone always weasels into the process. That didn't happen here. And if he never did anything else except that Herculean effort, he'd have made it in the business. Amazing. It's more than an original story. It's a story people are going to talk about, and see twice. And argue about. I was arguing with myself about the story when I read it the first time. That's all Rian Johnson, beginning to end. Great, great director."
---
Robocop
The Dark Knight and Tinker Tailor Soldier Spy (among many, many, many other things) star Gary Oldman has reportedly joined Elite Squad director Jose Padilha's remake. He will reportedly play Norton, described as "the scientist who invents the cyborg technology that brings Officer Alex Murphy (Joel Kinnaman) back to life." [Coming Soon]
---
Kick-Ass 2
Comics creator Mark Millar discusses the movie's structure, suggesting it starts by focusing on Chloe Moretz and then moves elsewhere:
"'Hit-Girl' will be the first 30 minutes of the movie, and then the next 70 minutes is 'Kick-Ass 2.' So 'Hit-Girl' is structured as the first act....As far as we know, everyone is scheduled to come back, unless somebody is hit by a bus or something. Chloe has a busy schedule, but she has to stop sometime."
There's more at the link. [/Film]
---
World's End
Nick Frost talks a bit about his role in his, Edgar Wright, and Simon Pegg's follow-up to Shaun of the Dead and Hot Fuzz:
"I'm one of the guys. There are five of us, and we're out, trying to recapture the glory we had as older teenagers. Hilarity and hell ensues."
Frost wouldn't reveal who the other three people are, but I'd say looking at the cast lists of their previous movies plus Spaced should give some good clues. Also, I'm going to throw out Peep Show's David Mitchell and Robert Webb out there, just because they're awesome and I want to see them in movies. That last sentence, as you might have surmised, was the purest speculation. [MTV Movies Blog]
---
The Watch
Here's another trailer for Ben Stiller, Vince Vaughn, Jonah Hill, and The IT Crowd star Richard Ayoade's alien invasion comedy, which is still desperately trying to downplay any ostensible connections to neighborhood watch vigilantism. [Coming Soon]

---
The Machine
Get Smart director Peter Segal and Fast Five star Vin Diesel are teaming up for what I'm going to guess is a comedy. Admittedly, that's more on the basis of Segal's presence than Diesel's, or even really the movie's synopsis:
A human-like machine [was] created in secrecy by the Pentagon as the world's first true ultimate weapon. Twenty years after the project was buried and decommissioned for reasons unknown, The Machine is discovered by a kid who befriends him. When the government learns it has been reactivated, the Machine must protect the family harboring him.
---
ALF: The Motion Picture Experience
Well, that might not be its exact title, but ALF creator and puppeteer Paul Fusco says ALF is ready to come back...in Pog movie form:
I think the timing is right. That's a big important thing, timing. There have been movies out there of characters that I didn't think were on the same parallel as ALF that got movies made, so I think it's time. I think it could be a home run on a lot of levels.
Fusco also shares a quote that sounds really unfortunate if you saw that viral video of Alf being, uh, outspoken on set: