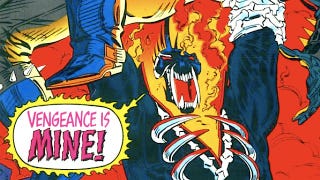 The 1990s were a frenzied time for comic books. Sure, everybody was buying stacks of comics with hologram covers and quoting Wolverine non-ironically, but so, so many godawful new characters debuted during those years.
For every Deadpool or Harley Quinn who captured fans' hearts, there were a dozen gaudily dressed nutjobs with katanas growing out of their armpits. Let us tip our hats to those lovable, unsung losers who epitomized that decades' worst impulses (and fashions).
10. Adam X the X-Treme
Who: The most 1990s X-Men character ever
Back in the 1990s, a superhero's appeal could be easily determined by the following formula: (Fanny Packs)² + (Amount Of Inappropriately Placed Blades On Outfit) + (Whether Or Not Character's Name Is An Awful Portmanteau). Adam X scored particularly high thanks to backwards baseball cap, goatee, his superpower to electrify your blood (!), and his decision to wear scimitars for shoulder pads. So yes, he was a walking Capri Sun advertisement narrowcasted to S&M enthusiasts.
Like any 1990s character worth his or her salt, Adam X was a no-rules anti-hero who took no guff from no one. And like most characters who resembles Poochie from The Simpsons, absolutely nobody mentions him now. But back in the day, X-Treme was to have a distinguished pedigree. If writer Fabian Nicieza — who invented the legendary NFL SuperPro in exchange for Jets tickets — had his way, Adam X would've been the X-Man Cyclops' long-lost half-alien brother, a discovery akin to finding out your estranged father is a California Dreams rerun.