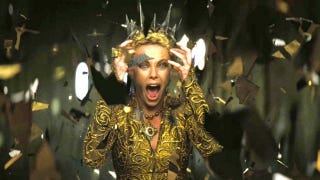 We need Snow White and the Huntsman to be good. It's moved past mere desire to a full-on burning inflammation in our fantasy loins. Why? Perhaps it's because what we've seen in the trailers so far looks pretty damn good. We were raised on Beastmaster, Willow, Dark Crystal and Labyrinth, but there's been a fantasy dry spell in Hollywood for years (Return of the King came out in 2003, people). It's time for some good, new fantasy, sans Lion Jesus.
So we desperately want Snow White and the Huntsman to be good, because that would mean a victory for dark fantasy and potentially more fantastic bloody battles fought on the big screen. We're not sure if it will be. The only thing we can do while we wait is whip up a pro/con list, so here it is. Let's contemplate how Charlize Theron's Evil Queen movie could prevail, and how it could fail.
How It Could Prevail
Evil Queen Appeal
Charlize Theron's character doesn't just suck the life out of people — she stares her victims in the eye while slowly draining them of their youth. She doesn't just take a stylistically cool white paint bath. She takes the milk bath with her motherfucking crown on. She keeps the crown on.
This is the asshole we want thrusting a sword into the gullet of a Disney princess. This is the evil Maleficent type beast we only saw with pointy hats and green faces. Now she's real, and damn beautiful. We're rooting for this horrific creature. Bring on the pain, bring on the youth sucking and screaming (oh the joyous screaming!). She's a militant female leader without being a "bitch". She doesn't want to toy with Snow White and torture her — she just wants to eat her heart. Hoorah.

New Twist
The look, the feel, the black magic ooze that the queen literally splatters all over her prey — it's all very different from the fantasy we're being currently fed, with the exception of Game of Thrones. In our interview with Huntsman director Rupert Sanders, he revealed he was inspired by "Pre-Raphaelite paintings, Victorian fairy painters who had been locked up in mental institutions," and it shows.