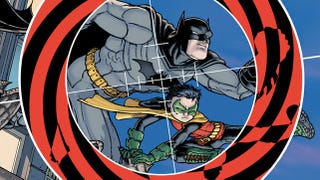 What's hitting the spinner racks tomorrow? New adventures of Gotham City's half-dynamic, half-dysfunctional duo, Wil Wheaton putting on his robe and wizard hat, and psychic spies running amok in a book from Matt Kindt of Revolver and Super Spy. It's Comics We Crave, coming at you on a lazy May afternoon!
First off, there's the return of Grant Morrison and Chris Burnham's globe-trotting title Batman Incorporated, which sees Bruce Wayne and his cantankerous son Damian square off against an assassin named Goatboy. (I really want the Pennsylvania crime syndicate Joe Average and the Average Joes to make a reappearance in this second volume.) For another flamboyant read, IDW is also publishing a new Godzilla ongoing series.
From Dark Horse Comics, there's Felicia Day and Wil Wheaton's The Guild: Fawkes one-shot. The synopsis? "Set after season 4 of the show, this issue reveals how Fawkes deals with his split from Codex and navigates the aggressive personalities of the Axis." You can also read our interview with those creators here.