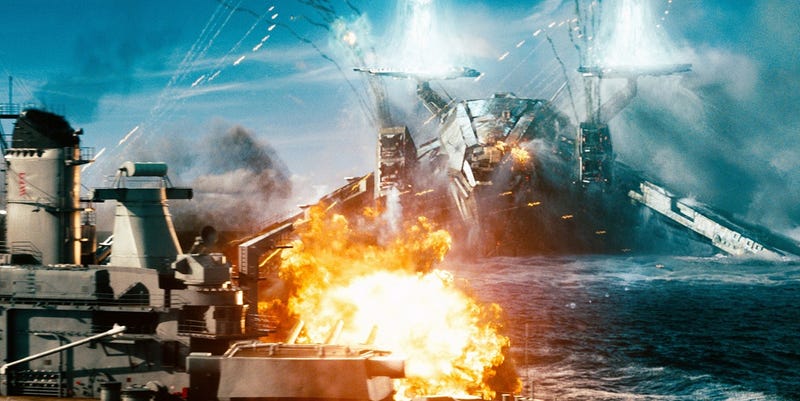 Battleship is superficially based on an old board game, but really it's the latest in a long line of movies about alien forces coming to our planet and trashing the place. And this movie proves what we've suspected for a long time: the Hollywood alien invasion picture relies on a whole series of ridiculous contrivances and cliches to work.
This movie basically lays bare how nonsensical the whole enterprise is, and that's part of why it's actually pretty fun to watch.
First of all, a non-spoilery opinion: As "aliens blow shit up" movies go, Battleship is much, much better than The Darkest Hour or Skyline, but maybe not quite as good as Battle: Los Angeles. If you liked the first Transformers (as I did) then you'll probably like this film too. Battleship is a perfectly sturdy film that's about 30-45 minutes too long but manages to deliver a decent amount of human-alien combat and strategy. It's a perfectly adequate dose of summer movie crack.
Okay, now for the spoilers.
After an incredibly slow opening act where we get to know our human characters (more on them later), Battleship moves on to hit all of the notes you'd expect from this sort of movie, with a workmanlike precision. Big alien ships descending to Earth? Check. Fiery destruction trashing a city, with people running and screaming? Check. Stand-off between the U.S. military and the aliens, in which the aliens totally hand us our asses? Check. One seemingly insignificant human comes up with a brilliant plan to fight back? Check. And without giving too much away, the aliens who seem unbeatable at first suddenly turn out to have a basic weakness? Check.
At least this time, the aliens aren't allergic to water. That would be especially regrettable, since they're on the ocean.
Obviously, with a movie like Battleship, the key is to shut off your brain and enjoy the things going boom and the military combat — the movie's writers even said so when we talked to them a while back. That said, there are two kinds of "shut off your brain" movies: The ones where you can't help thinking of all the stuff that makes no sense when you're in the parking lot outside the movie theater, and the ones where you can't help noticing all the nonsense while you're in the middle of the movie. This is definitely the latter.