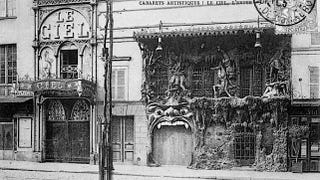 In modern times, you can find a stray cabaret or goth club in most modern metropolitan areas. But back in the late 19th century, your options were limited, albeit merrily deranged.
Paris of the 1890s had several supernatural nightlife options, each of them with marvelously outlandish gimmicks. In the 1899 book Bohemian Paris of To-Day by William Chambers Morrow and Édouard Cucuel, the authors visit several of the City of Lights darker drinking destinations, such as the Cabaret du Néant ("The Cabaret of Nothingness") in the neighborhood of Montmartre.
At this gothic nightspot, visitors pondered their own mortality as they drank on coffins and were served libations (named after diseases) by monks and funeral attendees. Recalls Morrow:
Large, heavy, wooden coffins, resting on biers, were ranged about the room in an order suggesting the recent happening of a frightful catastrophe. The walls were decorated with skulls and bones, skeletons in grotesque attitudes, battle-pictures, and guillotines in action. Death, carnage, assassination were the dominant note, set in black hangings and illuminated with mottoes on death [...] Bishop said that he would be pleased with a lowly bock. Mr. Thompkins chose cherries a l'eau-de-vie, and I, une menthe.
"One microbe of Asiatic cholera from the last corpse, one leg of a lively cancer, and one sample of our consumption germ!" moaned the creature toward a black hole at the farther end of the room. Some women among the visitors tittered, others shuddered, and Mr. Thompkins broke out in a cold sweat on his brow, while a curious accompaniment of anger shone in his eyes. Our sleepy pallbearer soon loomed through the darkness with our deadly microbes, and waked the echoes in the hollow casket upon which he set the glasses with a thump.

"Drink, Macchabees!" he wailed: "drink these noxious potions, which contain thvilest and deadliest poisons!"
After slugging a few back in the Salle d'Intoxication, patrons moved on to the other rooms, where the hosts used the Pepper's Ghost illusion to make revelers melt away into skeletons. Sadly, this haunt didn't survive past World War II.