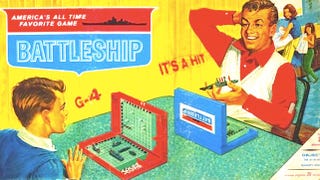 A few years back, moviegoers had a big belly laugh when they heard that a movie studio was immolating $200 million on an alien invasion flick based on the 1967 board game Battleship. "Haw haw!" we innocently guffawed. "Obligatory bon mot about red and white pegs! You sunk my battleship! Insert mock glee about cultural fatuousness and strip-mined childhood memories here!"
Well, now the joke's on us. Prior to opening in North America, Battleship has made ducats a-go-go worldwide because — as Michael Bay's robots-in-disguise trilogy taught us — we as a species are genetically predisposed toward ogling chunks of computer-generated alloy making noises similar to Lou Reed's Metal Machine Music. (It's the siren song of SKRONK-SKRONK-PHWEESH.)
Battleship's newfound loot guarantees that some Snidely Whiplash lookalike in Hollywood is itching to fast-track a sequel. But what will Battleship 2 look like? Given that A.) nobody on the planet asked for a Battleship movie; and B.) Paramount Pictures is using the last uncurled finger on its magic monkey's paw to make Transformers 4 for 2014, it is my sincere belief that Battleship 2 will have nothing to do with battleships.
Let's discuss the plot of director Peter Berg's Battleship (trailer here) for a moment. There's a yawning narrative gulf between Battleship the board game and Battleship the movie. Nothing about the former suggests the latter, save for the shared loose theme of naval combat (and some peg-shaped alien missiles).