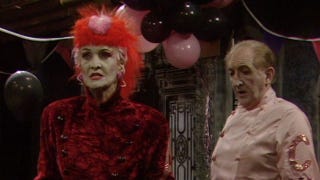 Seriously, you won't be able to deal with the sheer intensity of Doctor Who at its most political and confrontational. You may have thought you'd already experienced the most insane Wholitics after you watched "The Green Death," after which you resolved to start eating tofu and bicycling to work, or the evil maggot computer would win. But two new Doctor Who DVDs will Occupy your Brain. There are some serious Messages from the Time Lord in "The Nightmare of Eden" and "The Happiness Patrol."
Those messages? Respectively, they are: "Drugs are bad, 'mkay — especially in hyperspace." And: "Margaret Thatcher was a really, really bad Prime Minister, and just imagine if she was twice as campy and obsessed with candy."
Sorry for not giving you a spoiler warning before revealing the central message of both of those stories. Now that you know what they're both about, you don't even need to watch either of them — but you may want to, because they're both surprisingly fun, in their preachy, campy ways. These are quite possibly the two preachiest and two campiest Doctor Who stories ever, and they are completely bonkers in the best way.
One of them hails from the goofiest season of Doctor Who, when Tom Baker was just kind of mugging his way through it. The other one comes from the very tail end of Who, when the show was making a major effort to be a "serious" and challenging piece of television in its final days. But actually, both shows are equally silly, and in retrospect it's hard to believe that anybody thought Margaret Thatcher would be quaking in her sensible shoes over the pink-neon insanity of "Happiness Patrol."