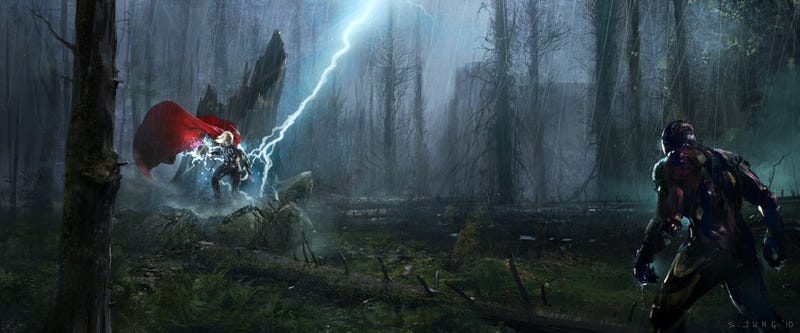 Now that Joss Whedon has joined the tiny club of directors whose films have made over a billion dollars, there's tons of speculation about what's next for the no-longer-a-cult icon. People are dragging lists of Whedon's unfinished projects out of mothballs — the Guardian suggests maybe he'll decide to make a Buffy movie after all, or resurrect his long-dead Wonder Woman script.
It's pretty obvious, though, that Whedon is probably not going to be using his new-found star power to go and resurrect projects he either finished or gave up on. He's already shown that he's not interested in going backwards at this point in his career.
Images by Steve Jung.
Here's the most important thing to remember about Joss Whedon right now: He chose not to direct Cabin in the Woods. If you read the book about the making of the film, it's clear that Whedon was sorely tempted. Halfway through the writing of the screenplay, he actually told co-writer/director Drew Goddard he was going to direct it after all — and then he changed his mind back. And then Whedon spent the entire filming hanging around on set feeling bummed that he wasn't directing, except for some second-unit stuff.
Whedon wanted to direct Cabin because it was a great script and a fun project — and he clearly had time to do it, since he was on set the entire time. The reason he didn't? Because it would have felt like going backwards, given that Cabin has a very Buffy feeling to it. It's also a smaller project, and even in 2008 Whedon was feeling as though he should be thinking bigger. (Although he's since filmed some much smaller projects, including the upcoming Much Ado About Nothing adaptation.)
So expecting Whedon to go back to Buffy the Vampire Slayer — something he turned down when he was much less busy than he's likely to be now — is a tad silly. Whedon's also made it clear that Firefly/Serenity is never coming back in any form that requires living, breathing actors, because the cast has all moved on.
It's slightly more possible — but still not terribly likely — that Whedon will resurrect his dead script Goners, which was a Buffy-esque story of a young woman who gains superpowers and faces ultimate horror. Unless he's able to find a new spin on it, which I wouldn't put past him. Here's how Whedon described Goners a few years ago:
A fantasy thriller about a modern day girl who goes on a really strange ride... It's about a girl named Mia, people know that, who sort of sees in a mystical way the underbelly of the city and of human society, and goes through a kind of extraordinary hell, and we all have a lot of fun in the process. …This is much more a story about - literally about human connection and whether or not it's possible. … But it's told on a very mystical scale and, in a way like everything I've tried to do including Buffy, it's an antidote to that very kind of film, the horror movie with the expendable human beings in it. Because I don't believe any human beings are.
It's beginning to sound more likely that Whedon will eventually direct Avengers 2, judging from his most recent comments — which, in turn, makes it seem less likely that he's going to rush to go making another corporate-owned superhero into a movie, like Wonder Woman. On the other hand, it sounds as though Marvel wants to put out sequels to all its solo superhero films (minus Hulk) plus one or two other things, before going ahead with another Avengers. I just doubt that Whedon wants to be pigeonholed as "the superhero movie guy."