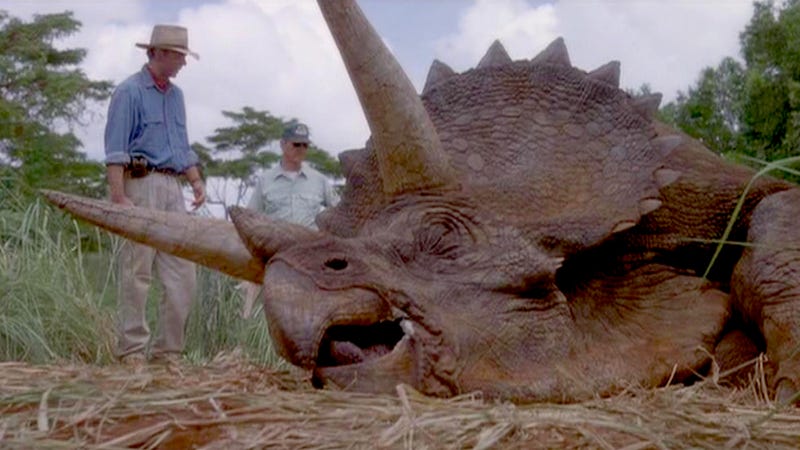 If you cried over the sick Triceratops in Jurassic Park, or just loved this horned dinosaur as a kid, there's one scientific controversy you need to understand right now — it may wind up demonstrating that Triceratops isn't who we thought it was. Recently unearthed evidence has sparked a new debate over the identity of several ceratopsid dinosaurs, including our beloved Tri, who many paleontologists believe is simply the young version of a creature called Torosaurus. But if a Triceratops is just a young Torosaurus, is Nedoceratops what comes in between? Or are they actually three different species? Here's everything you need to know to take a stand on this controversy.
Classifying dinosaurs is difficult under the best circumstances. With the ceratopsids, circumstances are not ideal. Incomplete specimens, damaged bones and small sample sizes plague researchers. For example, it would be a lot easier to assign an age to Torosaurus skulls if we had some complete skeletons to go with them. Worse, many specimens have been reconstructed incorrectly, making their morphology appear misleading. The worst case scenario is when there's only a single specimen for an entire genera, making it impossible to know if it really is a separate animal, a variation in the morphology of other animals, or an aberration caused by disease or injury.
The ceratopsid controversy starts with two similar animals, Triceratops (of three horns and a solid skull frill) and Torosaurus (of three horns and large perforations, or fenestrae, in the skull frill). Paleontologists have found quite a few Triceratops skulls, but only a half-dozen Torosaurus skulls. Then there's Nedoceratops. There's only one existing example of a Nedoceratops (which you can visit at the Smithsonian Museum of Natural History), and there's some evidence that the specimen might be abnormal – there are some assymetric bone densities in the skull, and the fenestrae appear irregular — Torosaurus' fenestrae are round and quite regular in shape.
The classification of ceratopsids is kind of a mess. When the first specimens were found, paleontologists assigned a new genera or species to pretty much every horned skull that looked a little different from the other horned skulls. There were 16 different species of Triceratops at one point. There's been a trend in the last decade or so to try and consolidate some of those genera and species. Linking previously separate genera would change what we know about biodiversity in the late Cretaceous and reshape our ideas about ceratopsid evolution.
Here are the main viewpoints on the subject, summarized:
Triceratops and Torosaurus are the same animal. In 2010, a study suggested that Torosaurus is really the adult version of Triceratops. We reported on that study when it came out, and at the time it made a lot of sense. The two dinosaurs are pretty similar, and loss of bone material is certainly something that can happen to an animal as it ages. There's even precedent for it among other dinosaurs. Sauropods (huge, long-necked herbivores like Apatosaurus) sometimes have bone formations in their skin known as osteoderms. The discovery of hollow osteoderms near mature specimens suggests the bone material may have been reabsorbed during lean years to provide a steady supply of essential minerals. Torosaurus has a massive skull, so it's possible that as it aged, Triceratops reabsorbed the bone and developed fenestrae to reduce the weight of its enlarging frill. Also lending credence to the theory: the geographic distribution of both genera overlap considerably.