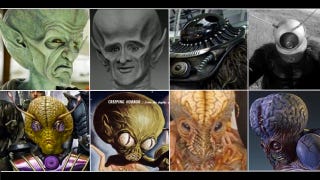 Science fiction and fantasy continue to rule at the movies — and with their reign comes a lot of nostalgia for the futuristic designs of yesteryear. Today's movies are full of cool retro design elements — just check out our collection to nods to the pasts in new and upcoming movies, from Prometheus, Men In Black 3, to The Incredibles.
Here are all the nods to retro coolness in the movies that have hit our screens recently, or are coming soon.
The Lorax
Even though The Lorax animated movie was somewhat joyless, it did have a spectacular dystopian city, that channeled a whole heap of robotics from the past. In a land without trees mechanical flowers and blow up shrubs are just as good! But the pièce de résistance was the giant dome the town of Thneedville was encased under. The isolated town is a classic science fiction staple going back to 1881 in William Delisle Hay's white supremacist fantasy, where everyone lives in a domed bubble under the sea, and on film in the 1976 flick Logan's Run. The Dome usually offers an easy answer to a complicated question, by hiding its inhabitants from the outside world.
Prometheus
Many of you have been pointing and screaming at the suit similarities between Ridley Scott's Prometheus and Mario Bava's Planet of the Vampires. And you're right. It's been mentioned that Vampires was an influence on Alien, so why not Prometheus? It's so obvious and not just because both suits are blue and yellow, the helmets, collars, piping, it's a lot of similarities for a movie this big. We don't doubt it was intentional. Both movies are about the dark manipulations of alien creatures, hoping to escape to Earth!
Iron Sky
Moon Nazis return to the Earth after hiding for years after their destruction in World War 2, to take over the globe. But first, they attack New York City. This is vintage futurism to the core, the clothes, the classic flying UFO, and (of course) reiteration of the worst futuristic nightmares from WWII — this isn't really a wink at retro futurism as much as homage.
Men In Black III
Men In Black III travels back in time to reboot the entire series, with a new retro 1960s theme. The nods are all over the trailers, stills and all the shots of makeup master Rick Baker's amazing works. We rounded up a few easy-to-spot examples right here. First there's this wonderful Outer Limits tribute. It's almost like a toast to the past's fake future!

Men In Black III
A salute to Robot Monster.

Men In Black III
Invasion of the Saucer Men.


Men In Black III
This Island Earth.

Men In Black III
And these amazing future scooters!

Cabin In The Woods
While meta horror movie is seemingly set in the here and now, all of the gadgets controlling the fates of the teens were pretty grounded in 1950s technology.
In a our interview with Cabin director, Drew Goddard, he explained that this was exactly what he was channeling. In fact, a lot of his "future" was inspired by the town he grew up in Los Alamos, New Mexico. Which is was built specifically to house the people who build the Atomic Bomb.