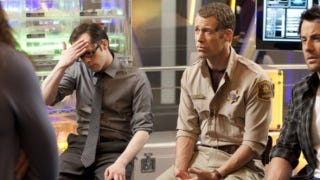 Last night's Eureka found the Astraeus crew struggling to readjust, after finally escaping the evil computer simulation. While our heroes tried to reconcile fiction with reality, our suspension of disbelief in turn was under threat, thanks to a pair of questionable special effects.
Spoilers ahead...
"Friendly Fire" picks up shortly after the Astraeus crew gets freed from Beverly Barlowe and the Consortium's virtual reality version of Eureka. For Allison, Grace, Zane, and Carter, that means trying to forget the unpleasant versions of Jo and Henry they encountered there, all while trying their damnedest to avoid telling Henry and Jo what they saw. Meanwhile, Fargo is devastated by the death of Holly, and so he tries out an experimental patch to speed his way through the stages of grief in record time...with predictable results.
Amidst this relationship drama, some of Dr. Parrish's experimental fire stoppers — and starters! — known as Fireflies escape from the laboratory, and anything with a power source is now in danger of turning into a blazing inferno. While one is recaptured easily enough, the other keeps going haywire whenever it's around certain townspeople - something that Henry ultimately traces to a mysterious side effect of spending time in the computer simulation.
The main problem with "Friendly Fire" is its special effects, which are decidedly unconvincing. I'm a bit surprised, really, because Eureka is generally pretty good at wringing the most out of its basic cable special effects budget, often making a little go a very long way. Honestly, I'm struggling to remember the last time I had this reaction to a special effect on the show, and that's partially why it's so problematic for me. To its credit, the show has gotten very good at ripping holes in the universe, and it even pulled off that virtual dragon to my satisfactio, but that deft touch unfortunately doesn't extend to the Fireflies.
A big part of the problem, I think, is the Fireflies — not to mention the apparently CGI fire — have to interact a lot with the cast, and the episode's direction isn't really able to hide which are the normal, more cinematic shots and which shots are clearly designed around the CGI. I don't really think the Fireflies as written can work on Eureka's budget — I'm not sure how you could have done this episode while trying to somehow shoot around the Fireflies.
I should be careful here, as it's not the special effects in and of themselves that I have a problem with. After all, I've written extensively about my love for classic Doctor Who, and that show had the dodgiest special effects in television history (well, assuming you've never heard of Blake's 7). I'm willing to forgive unconvincing special effects if it's in service of good, ambitious storytelling, and if it's clear the show's budget wouldn't allow for anything better. But since Eureka routinely pulls off special effects much better than this, it's harder for me to get past.