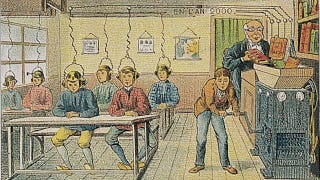 Our vision of the future is always changing. In the year 1910, we imagined that the year 2000 would be filled with airships and multi-armed robotic helpers. In the 1960s, manned trips to Mars seemed in our grasp. Early ideas about the Internet were sharpened and refined, and we saw nuclear technology and plastics change our lives, but in different ways than we predicted.
Throughout the 20th century, the year 2000 served as a goalpost, a time on which we could project our dreams for changing fashions and technologies. Even as we got closer to that year, we continued to imagine what it might be like and what wonderful surprises it might hold. Here is a timeline of just some of those predictions for the last year of the millennium.
Many of these retrofuturistic predictions were found through the amazing Paleofuture blog, which is now one of the Smithsonian blogs.
Top image from Villemard's Year 2000 series.
1900: Civil engineer John Elfreth Watkins, Jr.'s article "What May Happen in the Next Hundred Years," which appeared in the December 1900 issue of Ladies Home Journal is a popular bit of retrofuturism both for its accurate predictions and inaccurate ones. Watkins was correct that cars would be cheaper than horses, hot and cold air would be pumped into houses, and cameras would allow us to see events on the other side of the world. He was a bit off on superstrong humans trained at free public gyms, topically applied drugs, and total eradication of flies and mosquitos. Aerial travel was part of his vision for the year 2000, but by airship rather than airplane.
1910: These prints, credited to the French artist Villemard, take turn of the century fashions and pair them with imagined future technologies. Predictions about transportation and media were actually fairly accurate: electric trains, motorcycles, helicopters, and correspondence cinema. Other predictions, like robotic barbers and tailors, seem better suited to The Jetsons. And heating with radium is a bit ill-conceived in retrospect. But I wouldn't mind a set of those car shoes.
1930: These fashion predictions for the year 2000 seem mostly done in fun, and there's a strong emphasis on technological innovation rather than aesthetic advancements. Women don convertible dresses, temperature-controlled garments, and fabrics made from aluminum. The major fashion prediction one designer made was that skirts and dresses would disappear completely in favor of pants. The most accurate prediction? That men would wear phones and radios on their persons.
1950: In the 1950s, we see a big boom in predictions for the year 2000. In February 1950, Popular Mechanics published the article "Miracles You'll See In The Next Fifty Years," which invented the Dobson family, who live in the fictional suburb of Tottenville. We've taken a huge leap from the predictions of earlier decades. Thanks to the Hindenburg disaster and the rise of airplanes, predictions of supersonic jets have replaced airships in the skies. But this article had some dreamy notions about how chemistry would revolutionize our lives. Plates would be dissolved instead of washed. Home furnishing would all be made of washable synthetics, so you could hose them down any time you wanted to clean house. Discarded rayon underpants would be converted into candy. But it also indicated some inkling of the Internet:
Of course the Dobsons have a television set. But it is connected with the telephones as well as with the radio receiver, so that when Joe Dobson and a friend in a distant city talk over the telephone they also see each other. Businessmen have television conferences. Each man is surrounded by half a dozen television screens on which he sees those taking part in the discussion. Documents are held up for examination; samples of goods are displayed. In fact, Jane Dobson does much of her shopping by television. Department stores obligingly hold up for her inspection bolts of fabric or show her new styles of clothing.
That same year, US President Harry Truman offered his own predictions for 2000, referenced in an editorial critical of Truman's failure to discuss debt relief:
In international affairs, there will be world peace. The atom will be under international control. The United Nations will be a going concern and will have forces to preserve international law and order. World commerce will be regullated under the new International Trade Organization. Other nations will share America's prosperity through an expanded Point Four Program of technical assistance to under-developed countries. Communism will be suppressed, not by force of arms, but by an appeal to the minds and hearts of men.
1952: Author Robert Heinlein threw in his two cents on the year 2000 not long afterward. Although he did predict that contraceptives would change relations between men and women (although perhaps not as much as he thought they would) and that phones would be small enough to fit in purses, his predictions were on the whole overly optimistic. He imagined that, by the turn of the century, we'd have conquered cancer and the common cold, developed major housing breakthroughs, and have interplanetary travel on demand.