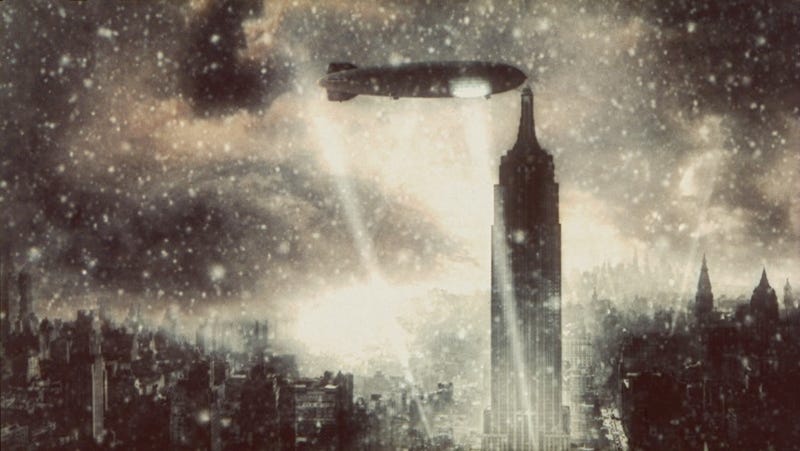 Zeppelins float in their tethers over the Empire State Building while humans fight with ray guns far below. Cities made of pure white porcelain soar above Niagara Falls. And of course, everyone zots to work in pneumatic tubes, after gobbling down pills for breakfast and smoking some health-improving cigars. Welcome to the future, as imagined by your great-grandparents.
There's something poignant and fascinating about yesterday's visions of tomorrow, as any retro fashionista or Mars Attacks fan can tell you. But retro futurism is a lot more than wearing Victorian goggles. Here are four ways we celebrate (and parody) the stories past generations told about the crazy world of tomorrow.
Camp and Cheese
Perhaps the most common form of retro futurism is often called "camp" or "cheese." It's a style where creators appropriate old ideas about the future for satire. Classics in this genre include Rocky Horror Picture Show, which makes fun of several 1930s horror/scifi movies, from Frankenstein to King Kong (the monster Rocky even climbs the RKO Radio tower at the end, in an homage to the iconic image audiences would have seen in 1930s movie theaters). The 1980s Flash Gordon does a campy sendup of both 30s and 50s movies, while Mars Attacks is a parody of 1950s alien invasion flicks.
In the 1960s, cultural critic Susan Sontag wrote a seminal essay about camp where she described camp, in part, as "a seriousness that fails." A movie, style, book, or design can only be campy if it tries extravagantly to be serious but is so over-the-top that it simply can't be taken seriously. Today, we often call this sensibility "cheesy," as in a movie that's "so bad it's good." Yesterday's visions of the future are perfect for camp and cheese because they're often wildly exaggerated in ways that are intensely pleasing. There's a reason why 1960s and 70s Godzilla movies are always counted among the great cheese classics. They're rife with ridiculous blinky-button labs, crazy robot tech, and unbelievably serious scientists, but most importantly they're about GIANT MONSTERS. What could be more extravagant than a nuclear dinosaur ravaging Tokyo?
Sometimes retro futurism deals with the tragedy of lost tomorrows, but camp is the comedy of crap predictions. Often a movie gets claimed as camp because it depicts a crazy future world that never came to pass, like one in 50s flick IT: The Terror Beyond Space, where 1973 witnesses two Mars missions to fight rubber monsters.