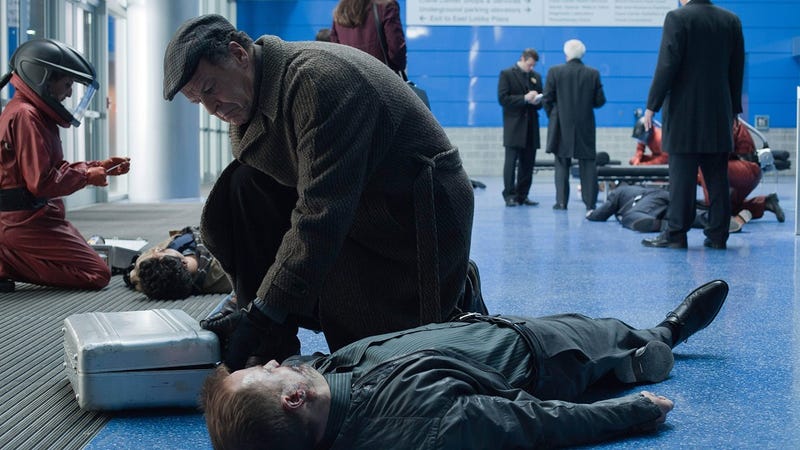 Many science fiction and fantasy stories feature a theme of facing your inner demons in order to conquer evil. This is one of the most common tropes, because it allows us to see people getting over their baggage — something we all agree is good, in these therapy-obsessed times — and making the world a better place in the process.
Only Fringe has the courage, sometimes, to show that confronting your terrible past and facing up to your old traumas can actually make things worse. In fact, sometimes it's just what the bad guy wants you to do.
Warning: Spoilers ahead!
Belly is back! And our heroes are heading into the belly of the beast! Sorry, couldn't resist.
William Bell is still alive in this timeline, because he didn't sacrifice his life during the effort to rescue Peter Bishop from the Other Side. (Because there was no Peter Bishop.) And he's a full-fledged baddie, who's apparently been behind the whole evil scheme involving David Robert Jones, alt-Nina, alt-Broyles, the new-fangled shapeshifters, Cortexiphan kids, amphilicite, merging the two universes, and all the rest. This makes a lot of sense — William Bell developed the shapeshifters the first time around, so it's not surprising he's the real culprit again. And he was instrumental in the Cortexiphan trials.
This also explains why David Robert Jones always seemed a bit aimless as a villain this season — he wasn't the one really pulling the strings. He was just another puppet. (Of course, if Leonard Nimoy had turned out not to be available after all, then no doubt Jones would have been the big bad in any case. And it's great that Nimoy comes back in an episode called "Brave New World, Part 1," since he starred in one of the few adaptations of Huxley's novel.)