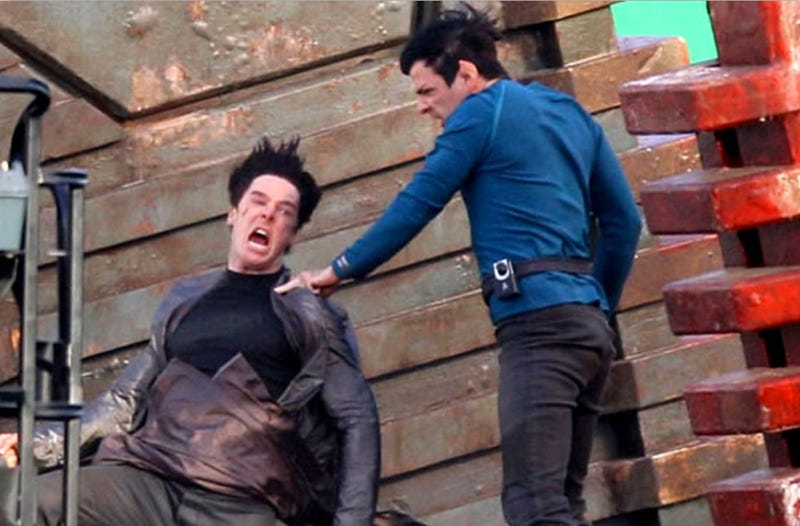 It's more or less official now which villain Benedict Cumberbatch is playing in the Star Trek sequel. It's been confirmed by multiple off-the-record sources, and Trek Movie seems pretty sure about it. And there's already a protest movement brewing about it.
But nobody's brought up the real problem with Cumberbatch's Trek villain yet.
Top image: Star Trek set photo via MTV.
Spoilers ahead...
So by all accounts, Cumberbatch really is playing Khan Noonien Singh, the villain made famous by Ricardo Montalban in the Original Series episode "Space Seed" plus the movie Star Trek II: The Wrath of Khan. This seems logical, based on what we've seen of set photos thus far — whoever Cumberbatch is playing, he apparently doesn't have any alien makeup on. And he doesn't have godlike Squire Trelaine powers, because otherwise Spock wouldn't be able to nerve-pinch him. It's clear Cumberbatch is playing someone human(ish), which narrows things considerably.
We already devoted tons of space to explaining why bringing back Khan is a bad idea — in a nutshell, it smacks of sequelitis and rehashing old ideas. It feels like pandering to the fans rather than doing something fresh and interesting. You can't improve on Montalban. Chris Pine doesn't have the gravitas to face up to a villain with that level of intellect and personality. Khan will probably get needlessly combined with another set of villains to make the story seem new — and indeed, there are multiple reports the Klingons are a major part of Trek 12.