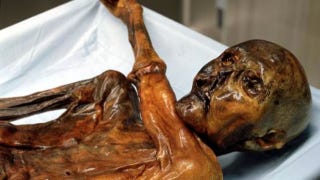 He was found with an arrow in his shoulder and a stab wound in his hand, but when Ötzi the Iceman was first discovered in 1991, scientists were unable to recover so much as a drop of blood from his otherwise intact body.
For 5,300 years, Ötzi's remains had been preserved by the biting cold of the Alps, but not even being frozen in a glacier could prevent the Iceman's blood from decomposing in his vessels. So German researchers Marek Janko, Robert Stark, and Albert Zink decided to look for blood residue around his hand and shoulder wounds, instead.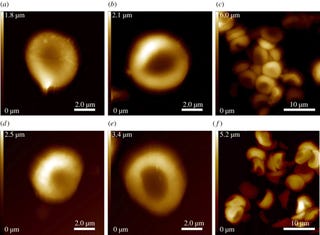 Using a high-resolution visualization method called atomic force microscopy, the researchers managed to discover the oldest intact red blood cells ever recorded. (The image featured here shows the 5,300-year-old RBCs, which exhihbit the biconcave discoid structure (aka doughnut-shape) characteristic of the cell type. The researchers also identified traces of fibrin — a protein involved in the body's clotting process — which adds to a growing body of evidence that suggests Ötzi did not die immediately after sustaining his wounds.