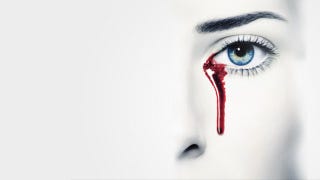 To awaken your inner fangbanger, HBO has been slowly releasing a collection of extended clips from the fifth season of True Blood. We've rounded them up, along with a healthy dose of images and leaked items, to create a massive spoilery guide to the new season.
One thing stands out right away, there are a crap-load of big bads this year — let's hope they all have sex with each other!
Bill and Eric Will Finally Have Sex! Probably, Maybe.
We've been waiting, and True Blood is ready to deliver. This season the Vampire Viking and the Vampire Mime will cast off the yellow-headed distraction known as Sookie, and throw down with each other. It's all there in this sex loaded quote Alexander Skargard gave E Online!:
"There's a bit of a bromance between going on this year between Eric and Bill...It's fun because I love Stephen Moyer to death, and after four years of butting heads, this is more like Butch Cassidy and the Sundance Kid. We have a common enemy and we have to team up this year."
These two are like the Ross and Rachel of the vampire world. We're on pins and needs will they won't they, looks like they finally will. Or maybe they'll just go on a road trip together. We can hope, though.
Pam and Eric are on the Fritz
Last season we watched all of Pam's beautiful flesh fall off, and Eric put on basketball shorts and pout. What. A. Nightmare.
Of course the eternally faithful Pam would be pissed, and lash out against Sookie and her "precious fairy vagina." But now the shit has hit the fan and in this latest clip we can see that things are still not OK between Eric and Pam. It's a whole new side of Pam — and if Eric sets her free, he's an idiot. This is your vampire baby, and she's totally amazing!

Terry Takes the Lead
Scott Foley (Felicity!) helps the noble Terry take on a leading role this year, as the character Patrick Devins, . Lowe was Terry's platoon leader in Iraq, and from the looks of this clip a lot of really horrible shit happened over there. We assume magic was involved, because nothing is simple in Bon Temps. But if that means more Terry time, then we're in, 100%.
Russell Is Back, Thank Satan
Sookie and Lala might be "done with all this supernatural bullshit!" according to this clip — but if the Vampire King of Mississippi, Russell Edgington, is back, then everyone is fucked.
Finally a main character we can cheer for, someone who not only has a backbone of his own, but rips them out of humans on television! Whatever deal Ball had to make with Lucifer to get Denis O'Hare on his show, it was worth it. All the scenery-chewing crazies on the small screen should take a page from this villain. In other villain news, Rev. Steve Newlin is also back, and possibly a vampire — but that seems like a pretty huge reveal to show in the trailer. Maybe he's just on v-juice and has fake fangs. Then again he was vampire zooming all over the place in this footage. Not sure how to feel about a Vampire Steve. Will he still be in love with Jason?