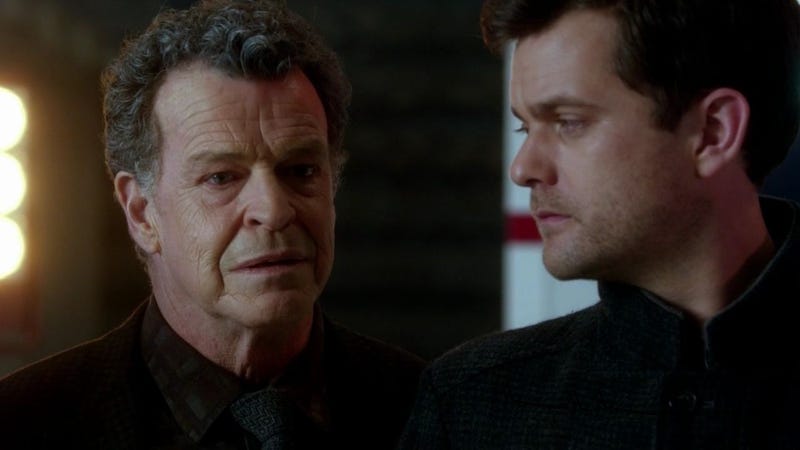 The promo for this week's Fringe hints that a special guest star could help the show live long and prosper... but is it true? Also, there's a four-hour miniseries in which Eddie Izzard and Donald Sutherland rock some crazy hair. A brand new TV show could bring us our weirdest future dystopia in ages. And Ben Edlund is writing and directing a new Supernatural!
Check out clips from the two-part Adventure Time special, plus Eureka, Lost Girl, Vampire Diaries, Secret Circle and more!
Top image: Fringe, via Grande-Caps.
Today:
Adventure Time (7:30 PM, Cartoon Network):
There's a special half-hour episode, made up of a two-part episode about the Nightosphere! Here's the skinny, plus two clips:
"They Went to the Nightosphere" - Finn and Jake wake up trapped in the Nightosphere with no memory of how they arrived. "Daddy's Little Monster" Finn and Jake return to the Nightosphere to save Marceline.
That's followed by a new Regular Show.

Eureka (9 PM, Syfy):
How will this show follow up last week's ultra-shocking events? Here's your first hint, plus a sneak peek clip:
When the Astraeus ship is finally found, the crew has vanished. ... Beverly Barlowe resurfaces in Eureka seeking Carter's help to free the Astraeus crew, and the rescue plan lands Carter in the crew's virtual world.
That's actually two episode synopses from two different listing sites, mashed together.
Motorcity (9 PM, Disney XD):
It's a new dystopian future cartoon, from the creator of Metalocalypse. Here's what to expect:
A turbo-charged animated series set in futuristic Detroit, controlled by an evil billionaire who bans personal freedoms, including automobiles. Now it's up to The Burners, a group of rebels led by 17-year-old Mike Chilton, to customize their fleet of cool hot rods and set out to stop Kane from taking over their last oasis of freedom, a subterranean refuge dubbed Motorcity.
Lost Girl (10 PM, Syfy):
It's "Scream a Little Dream." In which:
Bo deals with her relationship with Dyson; Bo probes an apartment building whose tenants seem to have lost their minds.
Check out a sneak peek!
Also on TV tonight: a brand new House at 9 PM on Fox, and a brand new Castle on ABC at 10 PM.
---
Tuesday:
Mysteries at the Museum (9 PM, Travel):
Basically nothing on TV tonight. So we thought we'd direct your attention to this special episode, which deals (in part) with the Boston Molasses Disaster of 1919. That's a scientific marvel, right there. Here's an unrelated video on the subject.
Also on TV tonight: A new Unforgettable on CBS at 10 PM, in which Carrie's greatest nemesis frames her for his own murder.
---
Wednesday:
There's just nothing. Sorry about that. We even looked at those weird little channels that almost nobody gets.
---
Thursday:
The Vampire Diaries (8 PM, The CW):
It's almost the season finale, which means shit is starting to get real. Here's what to expect:
A DAY WITHOUT A VAMPIRE - Klaus acts on his intentions to leave town with Elena (Nina Dobrev), but finds resistance from a surprising new enemy. Bonnie (Kat Graham) calls on Abby (guest star Persia White) to help her with a difficult spell. As events spiral out of control, Elena is determined to protect Caroline (Candice Accola), Damon (Ian Somerhalder) and Stefan (Paul Wesley) enlist Tyler's (Michael Trevino) help, while Bonnie and Jeremy (Steven R. McQueen) take a terrifying risk to make sure her spell is effective. Damon and Stefan have a surprisingly candid conversation about the future.
It's funny that the most thrilling part of that rigamarole is "Damon and Stefan have a candid conversation." Here's a clip, in which both Salvatore Brothers have a standoff with Klaus.
The Big Bang Theory (8 PM, CBS):
Worth mentioning because it's all about NASA moving up Howard's launch date, endangering his wedding plans. Meanwhile, Leonard says something weird in bed with Penny, and drama presumably ensues.
Person of Interest (9 PM, CBS):
This episode is called "Many Happy Returns," which leaves us hoping breathlessly that Jim Caviezel wakes up in a strange seaside town where he's given a number instead of a name, and weird balloons hunt him down. Except that, oops. That already happened — and it wasn't that great. Instead, this is about Mr. Reese getting a day off for his birthday, while the Machine spits out a number that's bound to stir up unpleasant memories for him.