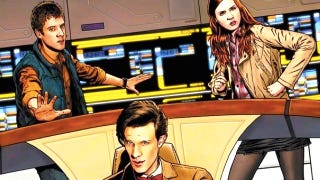 There's a gobsmackingly diverse slate of comics hitting stores over the next three months. Here's a sneak peek at some of the newest series under the summer sun. What's on the docket? Doctor Who aboard the Enterprise, new League of Extraordinary Gentlemen, Nick Fury acting salty, and Jesus Christ's clone's reality show.
MAY 2012
First off, Garth Ennis returns to his cigar-chomping, prostitute-loving, Cold War take on Nick Fury with Marvel's Fury Max. Goran Parlov's on art, and here's the quick and dirty:
In the wake of World War II, Fury is fast running out of battles to fight. But the world's superpowers are gearing up for a new kind of war and they'll need a man like Fury to win it.
Other Marvel books out this month include the New Mutants/Journey Into Mystery crossover Exiled, the monthly debut of Brian Michael Bendis and Michael Avon Oeming's all-ages superhero series Takio, and more Avengers Versus X-Men permeating oodles of comics.