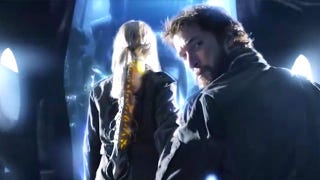 With Eureka and Game of Thrones already up and running, what else can we look forward to this summer season to keep us out of the terrible, evil sun? We've compiled all the new summer TV shows and returning series all in one post, for easier DVR planning.
What are you more excited about: Falling Skies or True Blood?
April/May
Planet Earth Specials
A new collection of Planet Earth specials will be premiering this April and May including, Planet Earth: Extreme Journeys, and Planet Earth: Extreme Predators (which sounds boss). The new specials will be narrated by Sir David Attenborough, but for now let's just watch a gaggle of adorable children try their hand at narrator.
Where: BBC America
When: Sunday, April 29 at 10pm/9c.

---
June

True Blood
The King is back! The King is back! The King is back! The King is back! After a lackluster 4th season, we can't WAIT for the 5th season which promises the return of not one, but two big bads. Oh, and naked people doing naked things with Southern accents. Hooooorah!
Where: HBO
When: Sunday, June 10th
Falling Skies
What happened to Tom Mason after he boarded the skinny CG alien's ship? What about his son — we've already seen the first three minutes of the new season, and little Ben is looking messed up! The fight to free humanity from the Skitters continues.
Where: TNT
When: Sunday, June 17th