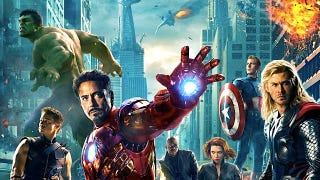 For the last 365 days or so, you may have heard your compatriots express immense anticipation about this so-called Revengers movie, which may (or may not!) star Iron Man, Batman, the Lone Ranger, and Balki From Perfect Strangers. You want to join in on the fun, but you wouldn't know Captain America from Captain Caveman.
Relax, endearingly perplexed moviegoer! The Avengers isn't that hard to figure out! It's just your run-of-the-mill ensemble flick about a vitamin-enhanced World War II soldier, a viking space god, a tycoon in a flying exoskeleton, an indestructible irradiated man-child, a Judo master in a catsuit, and some guy who's really, really good with a bow and arrow. Furthermore, it's all mired in five decades of comic book lore! Easy peasy!
Let's kick things off by establishing that The Avengers stars characters from Marvel Comics' comic books. The adventures of Superman, Batman, Wonder Woman, Green Lantern, and Shaquille O'Neal are published by DC Comics, so they do not appear in The Avengers.
Similarly, other Marvel Comics characters like Wolverine and Spider-Man are not in The Avengers, even though they are Avengers in the comic books. (TWIST: Almost everybody in Marvel Comics is an Avenger at some point!) Finally, Tintin is not an Avenger; he is Belgian.
Who are the Avengers? They've been Marvel Comics' go-to team of superheroes since 1963. (The X-Men are understandably too moody.) Here's a Cliffs Notes roll call: