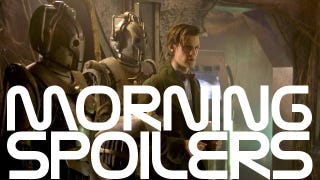 Robert Downey Jr. explains how The Avengers fits in thematically with the Iron Man solo films... and drops some Sherlock Holmes 3 hints. Chris Pine tells us what to expect from Star Trek 2, and hints he might star in a most unlikely genre film. There are huge hints for Iron Man 3 and The Hobbit. Will both realities survive Awake's season finale?
And the spoilers just keep on coming!
Top image from Doctor Who.
Iron Man 3
Director Shane Black was at Cinema Con, where he dropped some major hints about the next Iron Man movie. Coming Soon quotes Black calling the film a "technological thriller" and a "crisis movie," involving "international war, arms and terror." He promised to "put Tony Stark through the wringer" and that the villain will "frighten in today's world." Which is generally a good idea for villains. None of this points away from an Extremis based plot, though none of it screams "only in Extremis" either. [Coming Soon]
What we do know for sure about Iron Man 3 is who won't be joining the cast. Scarlett Johansson said in an interview that she won't be back for Tony Stark's next party. But don't count Johansson out of the super hero game yet, she said,
"I personally think there's an awesome Black Widow movie in there that is a Bourne type of film.
---
Star Trek 2
Benedict Cumberbatch, who's playing the unknown villain, gave a truly enigmatic interview about filming the movie. He says he's bulked up for the role, working with a trainer as much as two hours a day. He's also not playing a one-note villain:
"Just the range of stuff I get to do in one day, it's great. Also, what [director JJ Abrams]'s asking me, it's just wonderful. I can't say much nicer than that."
But the oddest detail is that he was just getting his hair dyed when he was doing recent interviews about Sherlock. We have to wonder — does his hair change color in the middle of the film, or do they have to keep touching it up a la Tricia Helfer in Battlestar Galactica? Cumberbatch also called the film "noisy." [Zap 2 It]
Chris Pine, who plays Captain Kirk in the film, had another adjective. He called the film "relentless." He also said that the film picks up right where the last one left off. [Access Hollywood]
And it sounds like these two hunks will be leaving L.A. Shooting on the film is headed to foggy San Francisco, where exteriors for the first film were shot.[Slash Film]
---
50 Shades of Gray
When Chris Pine was asked if he'd be interested in playing Mr. Gray from the Twilight fanfic turned publishing phenom 50 Shades of Gray, he said:
"It'd be a hell of a choice for me, I think. It sounds like an interesting film."
Bear in mind, this just means he thinks it would be "interesting," not that he's actually up for the role. [Access Hollywood]
---
The Avengers
Disney's totally not above bribing, er, rewarding fans who make it to the May 4th 12:01 a.m. IMAX screenings. Limited edition posters will be given out at the screenings. So if you want one, preorder your tickets now. And here it is:
No matter how many sparks fly between Tony Stark and his onscreen team, Robert Downey Jr. was ready to share the spotlight.
"I had five years to prepare myself, because Kevin Feige and the Marvel team had been saying that it was kind of heading toward this."
He also pointed out the thematic resonance between The Avengers and the first two Iron Man movies:
The 'Iron Man' series so far has always been about making space for others and collaborating. It's Tony's quote-unquote story, but it's always about all the folks we get around him who are kind of what make him interesting or give him someone or something to fight.
[FOX News]
---
The Amazing Spider-Man
Marc Webb was on The Attack of the Show where he confirmed that The Amazing Spider-Man trailer will be attached to The Avengers. For those keeping score at home, that's one Spider-Man trailer and one Dark Knight Rises trailer. I'm starting to think people should go see this Avengers movie.[Coming Soon]
---
The Hobbit
While first reports focused on the frame rate of the film, there are still spoilers to be gleaned from new footage. Gollum is in full on Harvey Dent/Two-Face mode. And just about everybody from LOTR showed up. On the guest list: Legolas, Frodo, Gandalf the Grey, Radagast the Brown, Elrond, Galadriel and some trolls. Ian Holm also makes an appearance as Frodo in his golden years. [IGN]