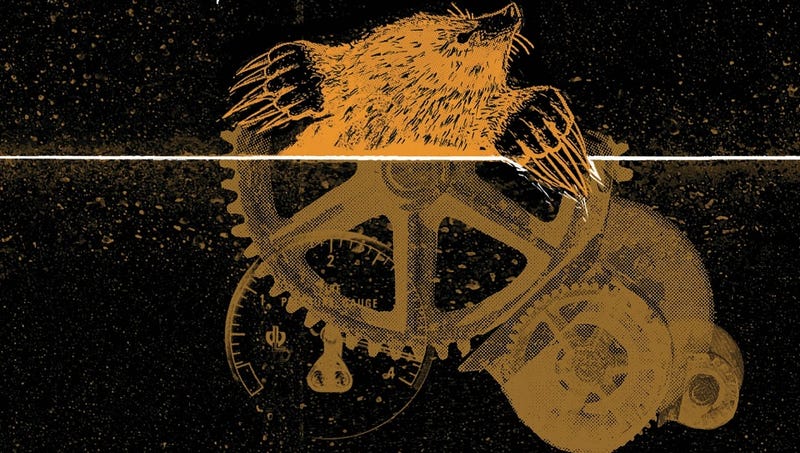 Railsea, the new young adult novel by China Miéville, is quite literary but playful — with vast molehills of brilliant worldbuilding & lots & lots of ampersands. Utterly unlike any of the many shmoopy vampires & dystopian romances out there, one wonders whether this novel will find an eager audience among teenaged readers.
Twelve-year-old Grey Area would have loved Railsea, but he was a pretty weird little dude. Perhaps kids who cut their teeth on Thomas the Tank Engine, then Lemony Snicket and Scott Westerfeld's Leviathan are ready for something more bizarre and complex. In that case, they'll have been waiting for a wild ride just like this. Spoilers ahead...
Railsea is not so much a retelling as an affectionate parody of that bane of many a high school student's existence, Moby Dick by the similarly surnamed but unrelated Herman Melville. It's not set on the world Bas-Lag from Perdido Street Station, Scar, or Iron Council — rather, this is another Dying Earth, similar to those crafted by acknowledged Miéville influences Gene Wolfe and Jack Vance.
Humanity clings to survival beneath a poisonous upper atmosphere on rocky outcrops separated by the railsea, an ocean without waves & whales. Endless railroad tracks of mysterious origin loop & crisscross over the soil constantly achurn with enormous burrowing predators. Mr. Miéville has helpfully included his own illustrations of some of these cthonian terrors. How do you feel about naked mole-rats? Now imagine a colony of them, each one the size of a German Shepard & with the table manners of pirhana.
We can always count on China to satisfy our daily requirement for monsters.
All manner of trains ply the railsea; driven by steam, diesel, sail, clockwork, or good old-fashioned galley slaves. Some of these salvage buried technology from civilizations long past or incomprehensible artefacts left by alien litterbugs. These latter items are called strugatski, an homage to the classic Russian novella Roadside Picnic. All of these diverse cultures depend on the found and repurposed tech and lionize the crafty Indiana Joneseque salvors. There are big gears and the occasional top hats, but if we must label things, this is really a Salvagepunk novel.