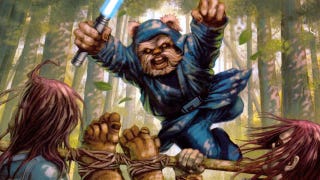 Becoming a Jedi Knight is not unlike being conscripted into the Mickey Mouse Club. You need a fresh face, a pleasant demeanor, preternatural "it factor," and voilà! You're suddenly living inside a space ziggurat with Samuel L. Jackson.
And just like the Mickey Mouse Club, the Jedi Order accepts Padawans from all across the galaxy. You can be a parasite-infested swamp abomination with feces of enriched uranium and extinction-inducing halitosis, but as long as your midi-cholorian count hasn't been diminished by wine coolers and peer pressure, you're en route to a promising internship giving Obi Wan Kenobi shoulder massages.
So without further ado, here are ten extraterrestrial beings who picked up a lightsaber. We're wading into the deep end of the Expanded Universe, folks.
10.) Beldorion the Hutt
This character appeared in the 1997 Planet of Twilight novel. Once a member of the Jedi Order, Beldorion went over to the Dark Side and enslaved an entire planet, using his Force powers to maintain a buff physique. He met his end when Leia cut him in half. I'm pretty sure Huttlets across the universe spin soft-spoken yarns around the campfire about Carrie Fisher.
9.) Tyvokka the Wookiee
This Jedi from Chewbacca's homeworld of Kashyyyk hung out with such luminaries as pre-Dark Side Count Dooku, Qui-Gon Jinn, and Plo Koon. Tyvokka wielded a wooden lightsaber and powerful precognition, so he always knew what Jefferson Starship LP you bought him for Life Day.