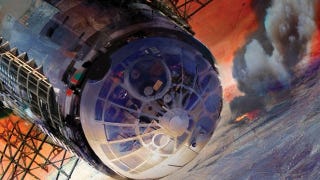 Summer is almost here, and that means one thing: Escape! Everywhere in the Northern Hemisphere, humans will be fleeing their buildings and shedding their protective outer garments, even as the sun grows hotter and more intense. But for some of us, simply fleeing to large bodies of water isn't enough — we need to escape into stories.
And there's no greater summer beach reading than a really imaginative, cool adventure story. That's why we've compiled this ultimate list of genre books, that are out now or coming this summer, which make great companions on your voyage to the beach.
Note that this isn't an exhaustive list of all the books we're excited about this summer - we've picked ones that we think will make good escapist reading for your plane rides and long summer days lazing around.
Top image: Detail from Caliban's War cover art by Daniel Dociu.
---
Out Now:
We loved this fun novel, out now in paperback, where high school kids in a dystopian future try to transform their lives — and save the world — by finding the ultimate easter egg in their favorite immersive game world.