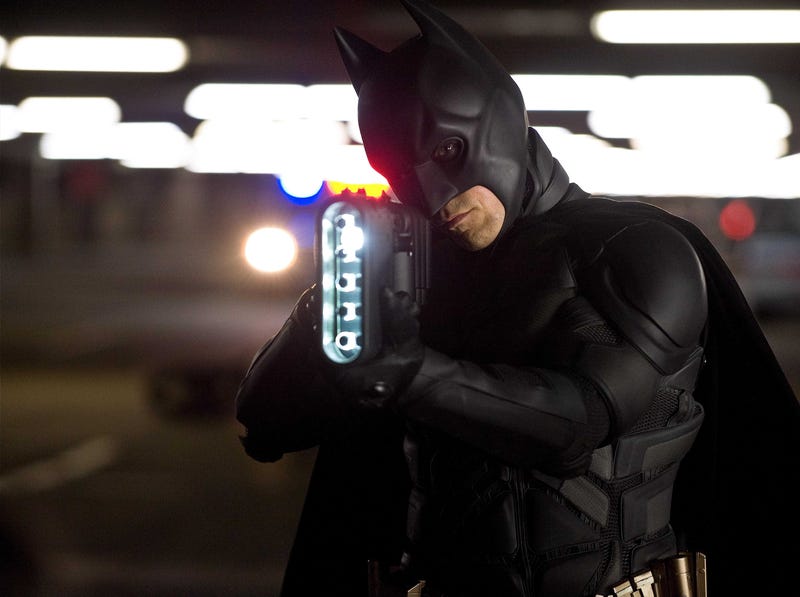 This year's summer movies just won't let up. There's Joss Whedon's Avengers, Chris Nolan's third Batman film, and Ridley Scott's long-awaited return to space horror. Plus maybe a dozen other movies that look like they could be totally fantastic. Here's our complete list of 32 movies coming out between now and September — including superheroes, aliens, time travel and the end of the world!
Minor spoilers ahead...
The Sound of My Voice (April 27)
The Sundance 2011 hit finally reaches theaters. It's an artsy tale about a cult founded by a woman who claims to be from the future, from Another Earth co-writer and star Brit Marling. Like Another Earth, this is a very character-focused, intimate story with a huge science fiction backdrop.
The Raven (April 27)
There's a serial killer who's killing people according to the works of pioneering horror author Edgar Allan Poe (John Cusack) — and only Poe can stop him. Quoth the Raven: WTF! Only really notable because it's the closest we'll ever get to the show about Poe being a detective that failed to get on the air last year.
The Pirates! Band of Misfits (April 27)
The latest stop-motion animated movie from the makers of Wallace and Gromit and Chicken Run, and it's easily as good as their earlier works. It's honestly much better if you think of it as being called Pirates! In an Adventure With Scientists, the title of the book and the U.K. version. Basically, pirates and Charles Darwin, in Victorian England.
---
May
The Avengers (May 4)
The culmination of four years of Marvel superhero movies, this film brings Captain America, Iron Man, Thor, the Incredible Hulk and S.H.I.E.L.D. together to fight Loki and his alien army. By all accounts, director Joss Whedon brings together this huge spandex mish-mash with surprising grace, and delivers a nice, craftsmanlike film. We can't wait.
Dark Shadows (May 11)
Tim Burton reunites with Johnny Depp for their 500th collaboration — a remake of the 1966-1971 soap opera featuring vampire Barnabas Collins, who wakes up in the early 1970s. Judging from the trailers, Burton has gone all-out comedy with this version, which could turn out to be an excellent choice — if he can recapture the old Beetlejuice spirit. Fingers crossed.
Battleship (May 18)
Already out in the UK, and getting mixed reviews. It's a movie based on a board game, in which aliens come down to Earth and imprison a bunch of naval vessels inside a dome, causing them to play a deadly game... of Battleship. By all accounts, it's pretty similar to the Michael Bay Transformers films, so if you liked those, you'll like this.
Hysteria (May 18)
A romantic comedy about the invention of the vibrator. Hugh Dancy plays a doctor in Victorian England who's torn between the staid values of the medical establishment and his progressive new ideas. And then he gets a job working with a specialist who treats women with "hysteria," and develops an electrifying new treatment. Meanwhile, he becomes entranced with his partner's daughter (Maggie Gyllenhaal) who's a budding feminist.
Lovely Molly (May 18)
A woman moves into her dead father's house, and starts being haunted by painful memories — and that's before a malevolent presence starts targeting her. By all accounts, this is a nice change from the usual "haunted house" movies, because Molly is working class (she's a trucker's wife and mall cleaning woman) and she's also recovering from drug and alcohol abuse, and desperately trying to stay sober.
Chernobyl Diaries (May 25)
The latest Oren Peli horror film isn't, strictly speaking, "found footage" — although it still has a very DIY feel to it. Six young people take an "extreme" tour of Pripyat, a town that's been deserted since that famous 1980s nuclear disaster. Except that they get trapped there, and maybe it's not quite as deserted as they'd thought... because something is hunting them.
Men in Black 3 (May 25)
Will Smith is back as Agent J, and this time he has to travel back to the 1960s to save his partner (Tommy Lee Jones/Josh Brolin) from being killed in the past by an alien (Jemaine Clement). On the plus side, the time travel element should open up some new storylines. Plus there's Emma Thompson. On the minus side, they apparently had no script during some of the production, and it was kind of a mess. But it could still be fun.
---
June
Piranha 3DD (June 1)
This was supposed to come out last summer, wasn't it? This sequel to Piranha 3D has the jokiest title of any movie this year, which also explains succinctly the main reason why anybody will want to see this monster fish epic. You can't blame a movie for knowing its audience.
Snow White and the Huntsman (June 1)
The second of the year's Snow White movies could actually benefit from the failure of Mirror Mirror. This one features a more "badass" Snow White, played by Twilight's Kristen Stewart (yes, I know). And the Huntsman (Chris Hemsworth) teaches Snow White the art of war, so she and her dwarves can overthrow the Queen (Charlize Theron). Dwarves include Nick Frost and Bob Hoskins, which is automatic win.
Prometheus (June 8)
Even in a summer with The Avengers and The Dark Knight Rises, this might be the most hotly awaited film for science fiction fans. Sir Ridley Scott returns to science fiction, and to the world of 1979's Alien, for a horrifying, unsettling new adventure. Every frame that we've seen from this movie thus far looks like it could be your favorite new artwork, and it also looks like it brings a massive new ambition to expanding the universe we glimpsed in Alien.
Safety Not Guaranteed (June 8)
It's that quirky indie comedy about three magazine employees who go to interview a guy who placed a classified ad seeking someone to go back in time with him. "I have only done this once before," the ad warns. Based on an actual newspaper ad that caused an internet sensation back in 2005. The trailer looks pretty great and clever, in that "quirky indie" way.
The Woman in the Fifth (June 15)
Ethan Hawke stars in the adaptation of a novel about a writer and professor who goes to live in Paris, then falls on hard times and gets ensnared in some dirty business. It's basically your standard "Ethan Hawke goes to Paris" movie that we've all seen before — except that it also turns into a freaky ghost story, at least judging from the novel.
Extraterrestrial (June 15)
Timecrimes director Nacho Vigalondo is back, with another weird little science fiction movie. Sadly, it's not the one he was planning to make about the guy who builds a ramp to jump his car onto a UFO. But it does have aliens — basically, a guy has a one-night stand with a woman who's out of his league, and just when things are getting awkward, aliens invade and everybody has to stay indoors. This movie hits select theaters in the U.S. (including your town, if you register via Tugg.com) on June 15.
Abraham Lincoln: Vampire Hunter (June 22)
Director Timur Bekmambetov (Wanted, Night Watch) returns to vampires — with a strange alt-history take in which Abraham Lincoln not only freed the slaves, he slew the vamps as well. It's written by Seth Grahame-Smith, based on his book of the same name. With Bekmambetov involved, the action should at least look pretty sweet.
Brave (June 22)
Pixar hopefully returns to form after Cars 2, with the story of Merida, a princess who defies an age-old custom and unleashes chaos on the kingdom. Everything we've seen thus far on this film looks totally gorgeous, including some beautiful shots of the Scottish countryside. Seeing Pixar tackle fairytales, and a female lead character, should be ultra-rewarding. Plus Kevin McKidd voices Lord MacGuffin and his son, the Young MacGuffin.
Seeking a Friend for the End of the World (June 22)
It's Melancholia, only it's a fun romantic comedy. Steve Carrel stars as a guy who connects with a young woman (Keira Knightley) and searches for his childhood sweetheart, before an asteroid destroys the world. The trailer is pretty hilarious, especially the bit where Patton Oswalt explains that the impending doom of the planet means that women will sleep with him without worrying about diseases — or even whether you're related to them.
G.I. Joe: Retaliation (June 28)
So yeah, nobody was especially impressed with the first G.I. Joe. But the good news is, this time around it's directed by Jon M. Chu, who created the insane dance-superhero webseries The Legion of Extraordinary Dancers. Plus it looks like this film picks up right where the first one left off, with the evil Zartan impersonating the U.S. President — and a movie about an evil president is always welcome.
---
July
The Amazing Spider-Man (July 3)
A mere five years after Sam Raimi's Spider-Man trilogy concluded, Spidey's being rebooted — but at least the new director Marc Webb ((500) Days of Summer) seems likely to bring a very different feel than Raimi. And non-organic web-shooters and non-CG swinging seem like an improvement. Plus a more quippy Peter Parker. The trailers we've seen so far look surprisingly cool. And yet, do we need a new Spidey origin? Especially one which focuses so much on the mystery of Peter Parker's parents? We'll see.
Ted (July 13)
The Family Guy's Seth MacFarlane directs his first big-screen movie. Mark Wahlberg plays John, who wished for his teddy bear to come to life when he was a kid. Now, John's a grown-up — and his sentient teddy bear is still following him around, hindering his attempts to have a normal life. Mila Kunis plays the love interest, and MacFarlane voices the teddy bear.
Red Lights (July 13)
It's pretty much your standard "paranormal investigators butt heads with a man who claims to be a psychic" movie — except that the paranormal investigators are Sigourney Weaver and Cillian Murphy. And the psychic is played by Robert De Niro. Sadly, we called it "this year's biggest Sundance letdown." Apparently it's De Niro's "Not the bees" movie.