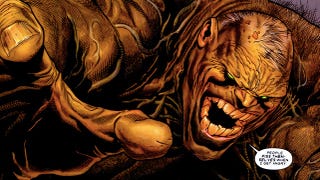 The Incredible Hulk's M.O. errs toward smashing crap, yelling self-aggrandizing slogans, and the mysterious power to perpetually be within a five-mile radius of a purple sweatpants factory. But it's unfair to stereotype the Green Goliath as a one-note behemoth. The truth is, comic writers over the decades have woven a diverse tapestry of stories about a giant, emotionally disturbed man with radioactive isotopes for melanin.
But would all of these stories go over in the multiplex? Goodness, no. Here are ten Hulk plot points that are slightly less absurd than that one time Nick Nolte transforming into a gamma-powered hobo god.
10.) The Hulk becomes a giant pile of tumors
In Warren Ellis' 1995 "everything that can go wrong in the Marvel Universe does go wrong" alternate reality miniseries Ruins, Bruce Banner saves his friend Rick Jones from the gamma bomb, like in normal continuity.
But instead of becoming a character cherished enough to adorn toilet paper, he becomes a massive lump of malignant yuck.