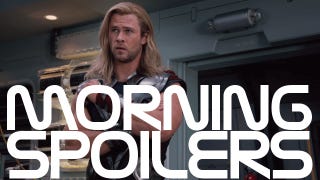 There are tons of rumors about the mysterious extra scene that The Avengers allegedly filmed after its world premiere. Plus there are massive Robocop casting rumors! Noomi Rapace tells you everything you need to know about her Prometheus hero.
Check out new photos for Dark Knight Rises, Amazing Spider-Man, Dark Shadows, Total Recall, and more.
Plus all the latest rumors on Fringe's renewal chances.
Let's get going, with spoilers!
Top image from The Avengers.
The Dark Knight Rises
Here are a few more promo photos of Batman and Bane. [IGN]
---
The Avengers
Here's a new sneak peek.

As we reported the other day, both Robert Downey, Jr. and Mark Ruffalo claimed they were shooting a new scene this past weekend. Odds are they were just messing with everyone, what with the movie already having premiered and all, but the rumor is it's a post-credits scene that deals with the fallout from the death of a major character — and his rebirth as a familiar Marvel character, specifically the android Vision. This sounds like fairly transparent bullshit, but feel free to judge for yourself. [Comic Book Movie]