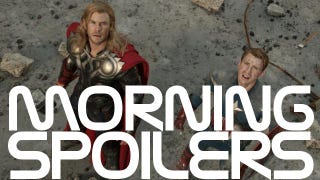 A trio of auteurs are being considered to direct Catching Fire. Robert Downey, Jr. starts a crazy Avengers rumor. Sin City 2 might really be happening. Plus a pair of Game of Thrones actors take you deep inside their characters.
It's spoilers all the way down!
Top image from The Avengers.
The Dark Knight Rises
Here are some promo photos from Entertainment Weekly's summer preview issue to accompany the recently released cover. We get a nice look at Tom Hardy's Bane wreaking havoc in a financial setting, Bruce Wayne's evolving taste in bathrobes, Joseph Gordon-Levitt being a cop in that effortlessly awesome way of his, and Anne Hathaway's Catwoman living up to the reason why she's called Catwoman in the first place by actually doing some cat burgling. [Batman-News]