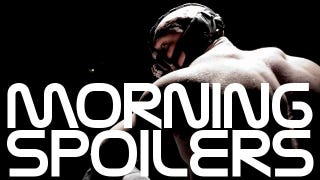 Christopher Nolan talks Dark Knight Rises villains, while Joss Whedon hints at a Captain America character's fate. Plus a crucial Doctor Who casting update, and more on Man of Steel, Lock-Out, Fringe, American Horror Story, and the Short Circuit remake!
Spoilers ahead!
Top image from The Dark Knight Rises.
The Dark Knight Rises
Christopher Nolan encapsulates the movie's two main additions, the villainous Bane and the more ambiguous Catwoman:
"[Bane] represents formidable physical strength, combined with absolute evil of intention. [Catwoman] has a very strong way of protecting herself and those she cares about, which implies an underlying darkness."
Tom Hardy says audiences will be able to understand Bane, even if it takes them a bit of time to get used to his distinctive voice:
"It's a risk, because we could be laughed at - or it could be very fresh and exciting. The audience mustn't be too concerned about the mumbly voice," says Hardy. "As the film progresses, I think you'll be able to tune to its setting."
[EW]
---
The Avengers
Here's a new Thor-focused TV spot. Also, for a breakdown of the Loki and Tony Stark clip from yesterday, go here.