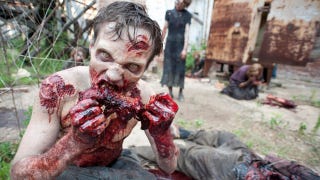 You first notice a bump — a tender, cherry red bruise. Over the next 12 hours, the center of this painful spot on your leg becomes dark violet in color. A day later this raised red bump ruptures and fluid oozes forth. I hope you are on the way to the hospital at this point, because flesh-eating bacteria might be running amok in your body.
These microbes have appeared in such films as the late-night scifi flick Cube Zero, in which a prisoner is sprayed with flesh-eating bacteria and melts before the audience's eyes. But does this horrifying bacteria act as quickly as depicted in movies? And more importantly, do the bacteria actually dine on your flesh?
Flesh-eating bacteria formally goes by the mildly less frighting name necrotizing fasciitis in medical circles. Necrotizing fasciitis occurs through a cascading series of events, with the bacteria Clostridium perfringens and Streptococcus pyogenes commonly initiating the infection. The bacteria often enter through an open wound, particularly when the wound is left exposed in a foreign environment like seawater or sewage.
These bacteria lurk in benign places — a 14-year-old in South Carolina contracted the illness in 2009 after removing rocks from the bottom of a local lake. He lost half of his palate, a portion of his nose, and several teeth as surgeons extracted flesh to prevent spreading of the bacteria. In another incident, the guitarist of the venerable thrash metal band Slayer contracted the disease from a spider bite in 2011.
In necrotizing fasciitis, the bacteria doesn't actually eat the flesh of your body. The bacteria sneaking their way into your body spur on the release of proteins, which have a toxic effect in increased quantities. Phospholipase A2 and antigens released by the bacteria enter the cells of your skin, fat, and the connective tissue covering your muscles and begin wreaking havoc. (Here's an image of a necrotizing fasciitis infection, but be forewarned that it's very graphic. Like, Krokodil graphic.)