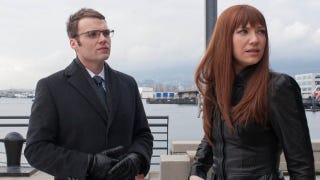 This week's television features the episode of Fringe that you must not miss, in which Walter Bishop takes a strange journey. Adventure Time gets more experimental than ever. Both versions of Being Human have season finales. And there's a special vampire episode of the most unlikely show.
Check out clips from new episodes of Adventure Time, Being Human, Voltron Force, and more... below!
Today:
Adventure Time (7:30 PM, Cartoon Network):
This week, it's "Five Short Graybles" — "A series of five interwoven short stories all centered around the five senses." Which is... pretty weird, even for this show. Watch a clip at left. Plus, there's an exciting blurb for the rest of season four: "In the highly anticipated fourth season of Adventure Time, familiar characters return and a new flame heats things up for Finn. Also, Jake and Finn venture into the Nightosphere, Lumpy Space Princess writes a tell-all book and viewers see who would win in a fight between Finn and Jake. The new season features guest voices by Donald Faison, George Takei, Erik Estrada, Andy Milonakis, Emo Phillips, Bobcat Goldthwait and Susie Essman." Yes, you saw the name "George Takei" on the list — Ricardio is back, baby! Oh, and that's followed by a new Regular Show and a new Mad.
Being Human (9 PM, Syfy):
It's the season finale, "It's My Party and I'll Die If I Want To." What will we do without this show and it's zany tweaked-pop-song titles? And apparently this is about all three of our supernatural housemates facing down their demons and seeking redemption... with fatal consequences. Check out a sneak peek at left.
Lost Girl (10 PM, Syfy):
This show, too, is having a season finale, "Blood Lines." Bo finally learns more about her past, including the identity of her mother. And a war is brewing between the Light and Dark Fae. Here's a sneak peek!
Also on TV tonight: a brand new House at 9 PM on Fox.
---
Tuesday:
Unforgettable (10 PM, CBS):
Remember this show about a cop whose mind can not only remember anything she sees — but also freeze-frame and enhance and zoom in on her memories? Pretty nifty superpower. In any case, it's back after a hiatus, and this time she has to get inside the head of a maniac before he blows up half the city with his bombs. Go Carrie go!
Also on TV tonight: A new Level Up on Cartoon Network at 8 PM and Doomsday Preppers at 9 PM on Discovery.
---
Wednesday:
Ninjago: Masters of Spinjitsu (8 PM, Cartoon Network):
In the first season finale, the Great Devourer strikes — a massive snake that destroys everything in its path. It's up to the ninja kids and their robotic friend to stop it. Admit it: You kind of want to watch Lego ninjas fight a giant snake. Check out a taste of the action on the left, in Korean. This is after a brand new Johnny Test at 7:30.
Voltron Force (8 PM, NickToons)
Lotor doesn't have any allies in his fight against Voltron — so he copies himself and makes an army of Lotors. Check out a clip at left.
Nova (9 PM, PBS):
It's "Deadliest Tornadoes." Which sounds pretty self-explanatory, really. Nova says: "Why was the 2011 tornado season in the U.S. so extreme, and, with advanced warning systems, why did so many die?" Worth watching just to see if they ever utter the words "climate change."
Also on TV tonight: a brand new South Park at 10 PM and a brand new Ugly Americans at 10:30 PM on Comedy Central.
---
Thursday:
Community (8 PM, NBC):
This episode has the ultra-intriguing title "Origins of Vampire Mythology." And then you find out that it features a character named "Blade," and the intrigue is increased tenfold. Said Blade is apparently Britta's ex-boyfriend, who's back in town, and she's tempted to get back together with him. Annie, Troy and Abed come up with wacky schemes to keep Britta busy so she can't get back with Blade — but meanwhile, Jeff and Shirley decide to go have a look at the mystery man... at the carnival. Meanwhile... will Troy be induced to join the Air Conditioning Annex?
Touch (9 PM, FOX):
Your favorite new show is back again, with yet another ludicrous tangle of fate. Here's what's happening this time:
Martin gets his laptop stolen on the day Jake is scheduled for an important evaluation. As a result, he becomes ensnared in a young Salvadoran woman's quest to avenge the death of her family. Meanwhile, Teller (guest star Danny Glover) tries to reconnect with his estranged daughter. Also, a spirited Saudi Arabian girl tries to break free of the societal constraints imposed on her and a Montreal doctor attempts to meet a stranger on a train.
Awake (10 PM, NBC):
We already anointed this as the best show you're not watching, and the coolest show on network TV right now. And now, with "Ricky's Tacos," it looks like we're making major strides towards finding out what really happened in the car crash that killed either Michael Britten's wife or his son. (And for those of us who think the Evil Conspiracy is the worst part of the show, there's bad news — that's back in full force, judging from this promo.) Still, this is a must-watch show, and I'm dying to see how it unspools.