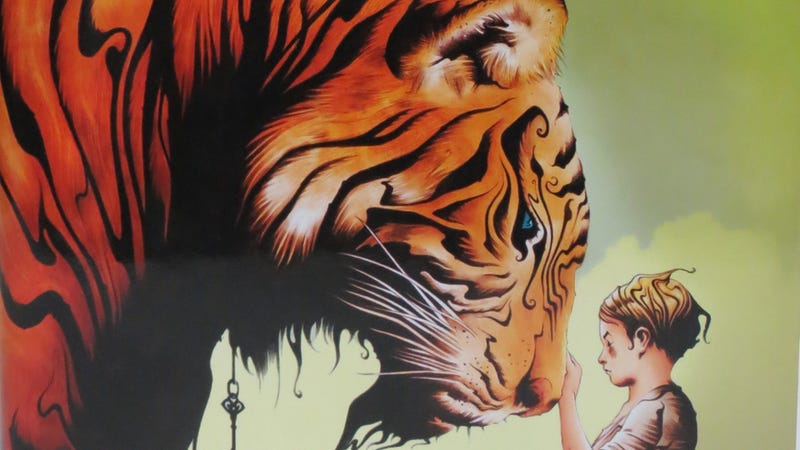 The book world has some treats in store for you this month — including a brand new novel in Stephen King's Dark Tower universe, and the first book of Neal Stephenson and Greg Bear's Mongoliad. John Shirley revises and updates his groundbreaking cyberpunk trilogy. There are more jazz-age vampires and Regency magicians, and alien-killers learning diplomacy. Plus a magic wishing ring that comes with a duplicate of your own dead body.
Here's everything that'll be thrilling your bookshelf in April!
Top image: Alt Cover of Stephen King's The Wind Through The Keyhole.
---
The Mongoliad Book One by Neal Stephenson, Greg Bear et al.
The Synopsis:
Fusing historical events with a gripping fictional narrative, this first book in the Mongoliad trilogy reveals a secret history of Europe in the thirteenth century. As the Mongols swept across Asia and were poised to invade Europe in 1241, a small band of warriors, inheritors of an ancient secret tradition, conceived a desperate plan to stop the attack. They must kill the Khan of Khans; if they fail, all of Christendom will be destroyed. In the late nineteenth century a mysterious group of English martial arts aficionados provided Sir Richard F. Burton, well-known expert on exotic languages and historical swordsmanship, a collection of long-lost manuscripts to translate - the lost chronicles of this desperate fight to save Europe. Burton's translations were lost, until a team of amateur archaeologists discovered them in the ruins of a mansion in Trieste. From the translations and from the original source material, the epic tale of The Mongoliad was recreated.
The Outlook: The first book to come out of the app that Stephenson and friends created in 2010, this off-beat alternate history of Eurasia could be your new obsession.
---
Immobility by Brian Evenson
The Synopsis:
When you open your eyes things already seem to be happening without you. You don't know who you are and you don't remember where you've been. You know the world has changed, that a catastrophe has destroyed what used to exist before, but you can't remember exactly what did exist before. And you're paralyzed from the waist down apparently, but you don't remember that either.

A man claiming to be your friend tells you your services are required. Something crucial has been stolen, but what he tells you about it doesn't quite add up. You've got to get it back or something bad is going to happen. And you've got to get it back fast, so they can freeze you again before your own time runs out.

Before you know it, you're being carried through a ruined landscape on the backs of two men in hazard suits who don't seem anything like you at all, heading toward something you don't understand that may well end up being the death of you.

Welcome to the life of Josef Horkai….
The Outlook: Evenson is the author of literary tomes like 2009's acclaimed Fugue State and Altmann's Tongue. But he's also the author of some Dead Space and Alien tie-in books. That could mean we're in for an interesting ride here.
---
Wicked City: A Zephyr Hollis Novel by Alaya Johnson
The Synopsis:
In this page-turning follow up to Moonshine, it's summer in the city and most vampires are drunk on the blood-based intoxicant Faust. The mayor has tied his political fortunes to legalizing the brew, but Zephyr Hollis has dedicated herself to the cause of Faust prohibition—at least when she isn't knocking back sidecars in speakeasies.

But the game changes when dozens of vampires end up in the city morgue after drinking Faust. Are they succumbing to natural causes, or have they been deliberately poisoned? When an anonymous tip convinces the police of her guilt, Zephyr has to save her reputation, her freedom and possibly her life. Someone is after her blood—and this time it isn't a vampire.
The Outlook: We quite liked the first book in this series, even in spite of our vampire fatigue. We wrote: This one's more True Blood than Twilight, and it's perfect if you've run out of Sookie Stackhouse books. Personally, I think I've found a new favorite urban fantasy series.