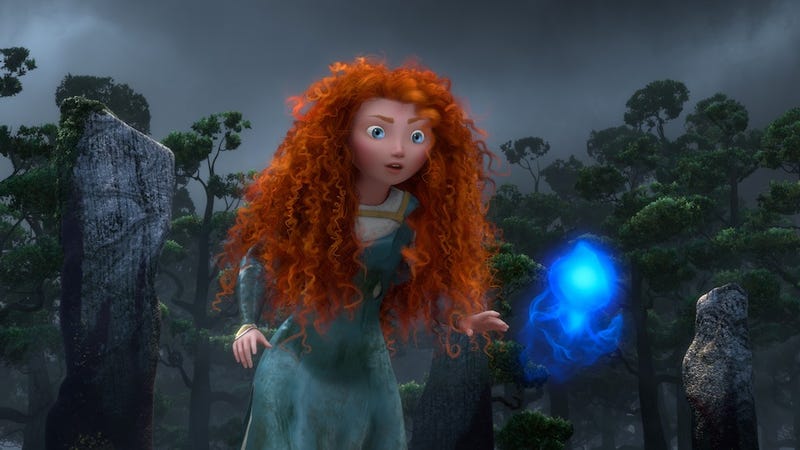 Pixar is still putting the finishing touches on its Scotland-set, female-centered, arrow-flinging fantasy film Brave, but we got a sneak peek at the movie's first 30 minutes. We can't give you any spoilers, but we can tell you this: It's going to be one gorgeous movie.
Pixar screened a rough first third of the movie for the press this week. Some of the lighting on a handful of shots wasn't complete, and we were told the sound mixing wasn't finished (although it sounded lovely to my untrained ears), but it's incredible how much detail is present in each and every frame.
The hair is certainly the immediate "wow" factor for the movie. It's so red and curly, and it practically radiates, against the lush greenery of the highland setting. And it's no small achievement; an incredible amount of work went into getting the gravity and behavior of the hair just right. There are 111,700 total hairs on Merida's head, and they spring and move much like real hair would. But there are other technological achievements that shouldn't get the short shrift. The fabrics have moved far beyond The Incredibles's skin-tight outfits. (Sorry, Edna Mode, but you've been ousted as Pixar's greatest fashion designer.) Woven fabrics look like they've been through a digital loom, and those tartan kilts are several yards of digital fabric wrapped and tucked to Braveheart warrior perfection. Gone are the plastic costumes. Long live plaid.