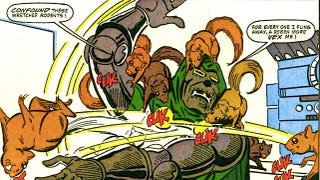 When it comes to supervillain class, nobody beats the Fantastic Four's arch-nemesis Doctor Doom. But despite his impervious metal suit and weapons-grade haughtiness, Doom has been knocked down a peg more times than he'd like to admit. Here are 10 of the Latverian dictator-for-life's most embarrassing moments — they involve squirrels, desserts, and magic trumpets.
10.) Doom gives toys to tots
In 1969, Jack Kirby drew up this sketch of a holiday appeal poster for Toys For Tots. As you can see on the right, that's Victor Von Doom venerably patting some unsuspecting child on the shoulder.
Was he infecting the stupid moppet with a nanotech virus that will transform his Little League team into mandrill-like abominations? Indubitably. The despot was excised from the final draft.
9.) Doom is reprimanded while eating lima bean chowder
1977's Mighty Marvel Superhero Cookbook featured this jarring tableau of the Scarlet Witch screaming at Doom before a bowl of steaming legumes. Nobody interrupts Doom's soup! Occasionally he forces his subjects to consume parfaits, but that's neither here nor there.
8.) Doom hides behind Henry Kissinger
In 1976, Doom got so damn tired of the Fantastic Four mucking up his plans that he invoked the powers of international realpolitik.
For a guy who's wielded the powers of the immortal space gods, this seems like an awfully lazy machination. And he didn't even transform Kissinger into some genus of mutant snake hominid, a conundrum Ronald Reagan once weathered.