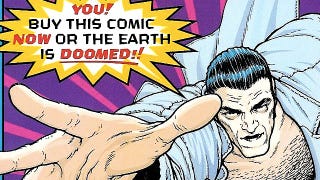 What's in stores this Wednesday? A graphic novel everyone assumed would never be reprinted, the first installment of Avengers Vs. X-Men, and an Alan Moore comic that has been shelved for more than a decade. Definitely not your average Wednesday!
First Issues
On the horror side of things, there are one-shots of Dark Horse's Criminal Macabre and IDW's Infestation 2: 30 Days Of Night. BOOM Entertainment is also releasing writer Sam Humphries' new ongoing series Fanboys Versus Zombies — here's the rundown on that:
One is a decrepit mob of gurgling, ravenous fiends…and the other is a zombie outbreak. When there is no more room in Hell, the undead shall take over Comic-Con! A crew of feuding best friends find themselves trapped inside America's largest comic convention transformed into a seething cauldron of zombies.

Is a horde of starving brain-eaters any match against reflexes battle-hardened by video games, nerves tested by horror flicks, and courage crystallized by comic books?
Grab Bag
One of the weirdest releases to hit stores this week is Image Comics' publication of Alan Moore's unused scripts for Supreme, a comic book that Moore has been off of since the mid-1990s. Here's the synopsis for Supreme #63:
ALAN MOORE's final SUPREME tale is the ultimate jumping on point for new readers! The triumphant return of Image Comics' most powerful hero!

As Supreme romances Diana Dane he takes her on a tour of the Citadel Supreme and tells all of his innermost secrets just as Supreme's most hated nemesis, Darius Dax, makes a most unfortunate discovery: the key to defeat his abhorred adversary!
There are also new issues of Avengers Vs. X-Men, The Boys, Action Comics, Animal Man, Swamp Thing, iZombie, Chew, Fatale, Daredevil, Wolverine and the X-Men, Wolverine And The X-Men: Alpha And Omega, and Casanova: Avaritia. Finally, you can check out previews for tomorrow's issues of Men of War and Ultimate Comics: Spider-Man at these links.