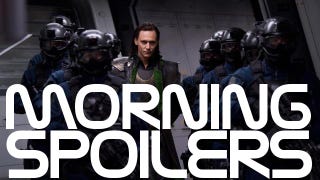 The latest Captain America 2 rumors have a surprising Community connection. And meanwhile, Kevin Feige promises that Edgar Wright's Ant-Man movie is still happening. The great Peter Dinklage joins the mind-bending science fiction movie Rememory. And do we finally know what the mysterious extraterrestrials in The Avengers are?
All that, plus the latest casting news for Bryan Fuller's Munsters remake.
Spoilers from here on out!
Top image from The Avengers.
The Avengers
Remember that TV spot we posted the other day, featuring the first look at the alien army fighting for Loki? As many io9ers suggested, the current internet rumor is that Loki's aliens are Korbinites, the race whose most famous member is Beta Ray Bill — who is basically Thor if Thor was a weird vaguely horse-looking alien monster thing, with all the awesomeness that implies. From what I can see, their appearance and their armor are a decent match for the comic book Korbinites, though they look a bit more ghoulish and desiccated. Of course, that may just be an artifact of translating them from the comic book page to the movies. Anyway, this is all just speculation, but I'd say this is the first plausible guess I've heard so far, certainly better than the continually denied talk of Kree or Skrulls. [/Film]