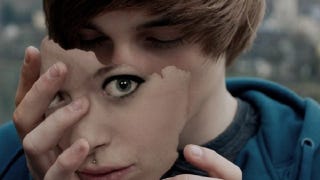 Back in the 1990s, there were a few queer science fiction anthologies that made waves, notably the Bending The Landscape books from Meisha Merlin. And since then, there's been a bit of a void in terms of print anthologies that really succeed in combining cutting-edge science fiction and fantasy with queer themes — at least, outside of erotica anthologies like the ones Cecilia Tan puts out.
The good news is, a new anthology coming in May, Beyond Binary, feels like a worthy successor to the Bending the Landscape books. It's chock full of strong stories that challenge your perceptions of gender identity and sexuality, but also turn your notions of reality itself upside down. Editor Brit Mandelo has done a great job of assembling some of the most provocative writers working in SF today.
Top image: Sawyer Westbrook/Deviant Art.
With a themed anthology, whether it's a book of zombie stories or a book of "Genderqueer and Sexually Fluid Science Fiction" like this one, I usually consider it a win if I really like about half the stories in the book — it's really hard for a group of stories to conform to a theme and rock my world, for various reasons. And on those terms, this book is a definite win — at least half the stories in here really bowled me over, and the ones that I was less excited by were still at least thought-provoking or left me with a few mental images or fascinating phrases stuck in my head.
Beyond Binary is almost entirely reprints, too, which helps a lot — it's like a nice survey of some of the most interesting science fiction and fantasy dealing with gender that's come along in the past decade or so. There are previously published stories by Nalo Hopkinson, Ellen Kushner, Delia Sherman and other well-known authors. Catherynne Valente contributes "Palimpsest," the story that became her breakout novel of the same title about a sexually transmitted city.
For me, the real standout of the collection is Kelley Eskridge's "Eye of the Storm," which comes from her story collection Dangerous Space, which I've written about before. I liked that story the first time I read it, but this time around I got even more out of it — the main character, whose gender is left ambiguous, develops a unique fighting style which turns out to be sort of like making love. And indeed, the better the main character gets at fighting, the more it becomes like a sex act — something the protagonists' boon companions don't realize at first. It's a really beautiful story, in which the strange, beautiful ending feels genuinely transformative.