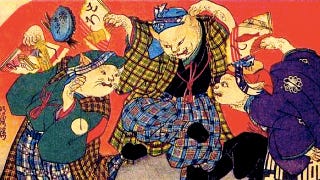 To whom(eow) it may concern,
This is a sternly worded letter to all of you felines of myth, lore, legend, and urban legend who slink into my bedroom at night and clap your magical sphincters in my face while I sleep, like so many dirty castanets.
I reiterate myself once again — leave my room, you goddamn myth cats!
For those of you reading this who are not felines whose exploits have been relayed through centuries of oral history, I apologize. I have no quarrel with you.
Similarly, if you are a folkloric feline whose territory is outside of the geographical demarcation that is my bedroom's four walls, no besmirchment is intended.
I mean you in particular, Gichi-anami'e-bizhiw, "the fabulous night panther." You live under the Great Lakes, which are clearly not located in my bedroom. Let's include some pictures of you so nobody indicts you in my screed.
That's a face handsome enough to sell legal tender. But as for the rest of you mythic tabbies, I've made my marching orders clarion — clarion as balls.