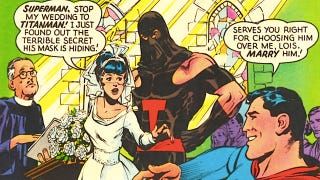 Lois Lane and Superman are the iconic comic book couple, but their romance has weathered some rough patches throughout the decades. Here are ten of these head-scratching occasions. Who could ever forget the time Lois borrowed a time machine to make out with Kal-El as a toddler?
10.) Superman and Lois Lane's Baby Wedding
In 1963's Superman's Girlfriend, Lois Lane #42, a horrible accident changes Lois' personality such that she blackmails Superman into marrying her. Superman, never one to be hoodwinked into nuptials, disguises an alien age-reversal potion as perfume and allows his crazed bride to spritz herself.
This plan works except for the facts that A.) Lois sprays the substance on the Man of Steel too; and B.) Superman's reputation has taken a turn for the Humbert Humbert.
The potion de-ages the duo even further, to the point that baby Lois and Superman are wheeled into a chapel for an insane infant wedding. I can only assume this wedding was approved because Superman, on a bored whim, once rerouted Metropolis' water supply from an aquifer to a boxed wine factory.
9.) Superman's April Fools Screw-You
In 1958's Lois Lane #4, Superman's friend Jimmy Olsen hypnotizes the Last Son of Krypton into proposing to Lois as an April Fools stunt. Lois — who's been the victim of soul-shattering romantic fuckwittery because of Superman — is understandably cautious.
To cancel the wedding, Jimmy fakes Clark Kent's death because Jimmy's a horrible, horrible man-child.
Once free of commitment, Superman immediately fucks off into the stratosphere with a twinkle in his eye. And as a coup de grâce, the advertisement at the bottom touts a comic that is irrefutable evidence Superman should be tried at the Hague.