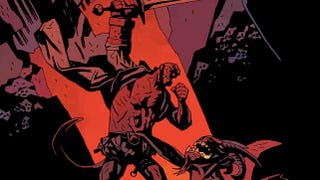 Hellboy's been in a rough patch lately. It was only in last year's miniseries The Fury that one of Big Red's supernatural nemeses tore out his heart and killed him. Now that Hellboy's dead, his final destination should be pretty obvious.
Indeed, courtesy of Mike Mignola and Dark Horse Comics, here's an exclusive first look at Hellboy in Hell. And you thought your family reunions were screwed up.
Here's a sneak peek at a double-sided giveaway poster Dark Horse will be handing out at Seattle's Emerald City Comic Con and Salt Lake City's World Horror Con this weekend. One side of this poster features the first image from Hellboy in Hell, an upcoming miniseries both written and illustrated by Mike Mignola.
This comic's slated to come out later in 2012. We don't have an issue synopsis yet, but here's how Mike described the title to io9 in December, and here's his giant-insect-filled vision of Hell he gave to L.A. Weekly last year: