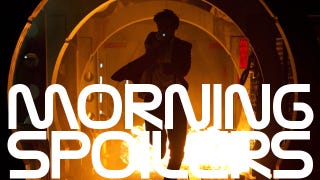 Just as one Teenage Mutant Ninja Turtles controversy dies down, another takes its place. Costar Jim Sturgess discusses the sprawling Cloud Atlas adaptation. Plus new Doctor Who hints and trailers for Snow White and the Huntsman, Wrath of the Titans, and Dark Shadows!
Spoilers from here on out!
Top image from Doctor Who.
The Avengers
Here's a dubbed Polish trailer that quickly dispenses with all of the male Avengers and devotes most of its 50 second running time to Scarlett Johannson's Black Widow, proving once again why international trailers truly are the best trailers. (Or at least the most savvy in understanding what the audience wants to see.) Non-Polish speakers aren't going to get much out of the dialogue, but the footage does seem to confirm her previously rumored intro scene. [Coming Soon]