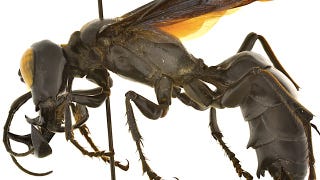 Behold a creature whose bedroom play may be straight out of the most mind-warping Brueghel painting. Meet a male Megalara garuda, which belongs to both a newly identified species and genus of Indonesian digger wasp.
A specimen of this wasp had been languishing in Berlin's Museum für Naturkunde since the 1930s, until a recent expedition to the wasp's habitat caused entomologists to realize they had something special on their hands — that is, a giant wasp with a killer jawline.
Megalara garuda — which lives on the terrifically biodiverse Indonesian island of Sulawesi — tends to max out at a length of 3-4 centimeters. It's a hefty insect compared to similar species of wasps, but it's the males' oversized mandibles that have truly captivated researchers.