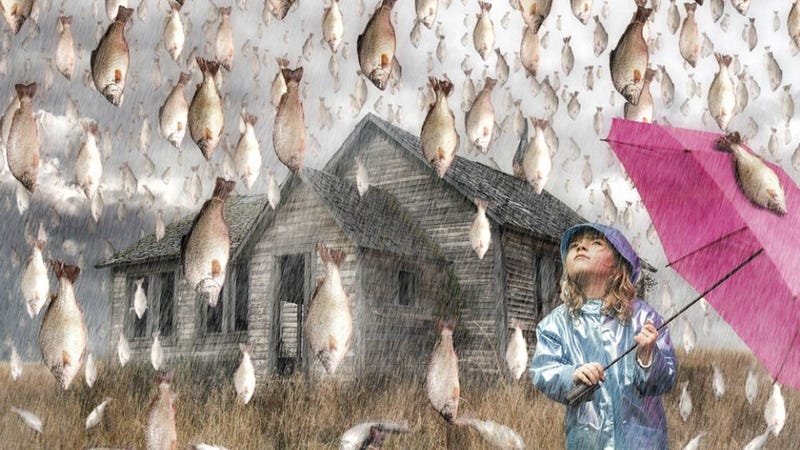 Animals falling from the sky like oversized organic raindrops may seem like the stuff of urban legends and Paul Thomas Anderson movies, but it's an absolutely real phenomenon...probably. Here's a rundown of nature's most bizarre and seemingly impossible weather.
Top image via FreakingNews.com.
When It Actually Rains Cats and Dogs
Accounts of animals mysteriously falling from the sky are found throughout the history of many cultures - the first century Roman writer Pliny the Elder mentions rainstorms of frogs and fish. It's a rare occurrence, to be sure, but there are engravings of raining animals dating back hundreds, if not thousands of years. Even just looking at the last decade turns up a bunch of examples of this strange phenomenon. There are tons of eyewitness accounts throughout history that support their existence - even if some, perhaps even most of them are false or mistaken in some way, there's still a lot of evidence to support the idea that animals really do sometimes rain from the sky.
The most common types of animal rain appear to be those involving fish and amphibians. The last five years alone have turned up reports of raining fish in Australia, the Philippines, and two different regions of India, while frogs have fallen as far afield as Japan and Hungary. Take this report of tadpoles falling from the sky in Japan's Ishikawa Prefecture in June 2009:
Clouds of dead tadpoles appear to have fallen from the sky in a series of episodes in a number of cities in the region since the start of the month. In one incident, a 55-year-old man who was caught in a tadpole downpour described hearing a strange sound in the parking lot of a civic centre in the city of Nanao. Upon further exploration, he found more than 100 dead tadpoles covering the windshields of cars in an area measuring 10 square meters. Dead tadpole downpours were also reported by local officials 48 hours later in the city of Hakusan in the same prefecture.
Then there's the fish which rained down on the tiny town of Lajamau in Australia's Northern Territory on February 24 and 25, 2010. The town had previously seen such fishfall in 1974 and 2004. The tiny white fish, which were most likely spangled perch, fell by the hundreds on the remote Australian town, as local Christine Balmer colorfully - and disbelievingly - recounted in a news report:
"It rained fish in Lajamanu on Thursday and Friday night. They fell from the sky everywhere. Locals were picking them up off the footy oval and on the ground everywhere. These fish were alive when they hit the ground. I haven't lost my marbles. Thank God it didn't rain crocodiles."
Even that's nothing compared to this account of fish falling over Marksville, Louisiana way back on October 23, 1947. Louisiana Department of Wildlife biologist A.D. Bajkov offered this account:
"There were spots on Main Street, in the vicinity of the bank (a half block from the restaurant) averaging one fish per square yard. Automobiles and trucks were running over them. Fish also fell on the roofs of houses…I personally collected from Main Street and several yards on Monroe Street, a large jar of perfect specimens and preserved them in Formalin, in order to distribute them among various museums."
Explaining the Rain
What could possibly be causing all these animals to fall from the sky? I should probably start by eliminating a good percentage of them by saying some of many stories are almost certainly embellished. Sometimes, animals will cluster and even die en masse in a seemingly unusual location - for a particularly dramatic example, remember all those dead birds falling from the sky a year ago? - and it wasn't rain that brought them there. The Library of Congress explains: