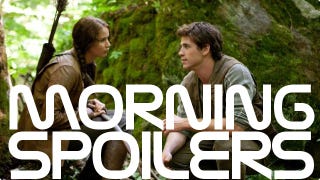 Producers Robert Kirkman and Glen Mazzara give tons of hints for The Walking Dead's third season. Rian Johnson discusses Bruce Willis's role in Looper. Plus Doctor Who's Mark Gatiss reveals the disgusting secrets of his 3000-year-old Being Human vampire!
Spoilers from here on out!
Top image from The Hunger Games.
The Avengers
Here are some moderately new character banners. [IGN]
---
Prometheus
Just to round out the recent barrage of trailers, here's the first TV spot. [Coming Soon]

---
The Hunger Games
Here's a new clip featuring Jennifer Lawrence and Liam Hemsworth, in which Katniss says goodbye to Gale before leaving for the games. [Moviefone]

---
Looper
Here's an interview with Brick director Rian Johnson on his awesome-looking time travel movie. [/Film]