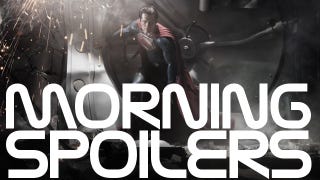 The costume designer for Zack Snyder's Superman reboot recently explained why their version of the character has a giant "S" on the middle of his costume. And his explanation hints that Krypton may look very different from what we've seen before.
Plus director Marc Webb reveals a truly awesome Easter egg in The Amazing Spider-Man.
Star Jennifer Lawrence gives the lowdown on Katniss Everdeen and The Hunger Games.
Writer Seth Grahame-Smith says Michael Keaton and Tim Burton are ready to make a Beetlejuice sequel.
Plus tons more videos for Game of Thrones, Fringe, and Supernatural!
Spoilers from here on out!
Top image from Man of Steel.
The Amazing Spider-Man
Director Marc Webb offers this cryptic hint about Easter eggs in the film that likely relates to this weekend's revelation that the movie will hint at future villain:
"There are moments, there are distant mountains as J.R.R. Tolkien says that refer to...that are little winks and we'll see if the audience likes it enough maybe they'll get another movie."
Speaking of Easter eggs, he also says that star Andrew Garfield put a photo of Community's Donald Glover in Peter's bedroom as a nod to the actor's Twitter campaign to get an audition for the main role. That's pretty damn cool, all things considered. [Collider]