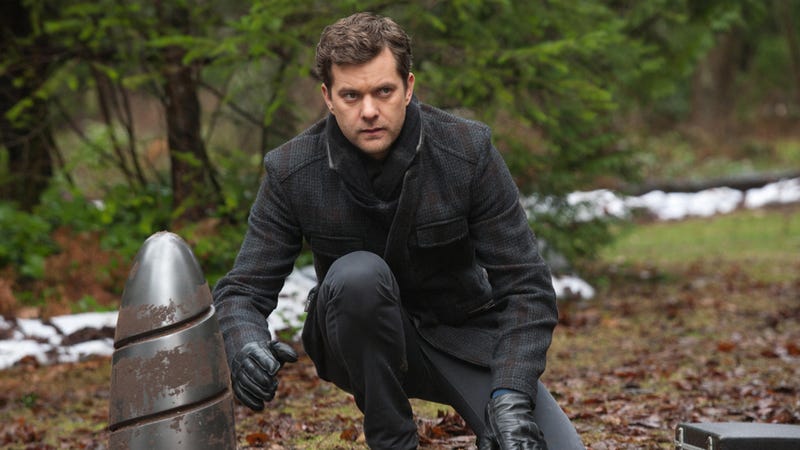 This week on TV, Walter Bishop is back, and he's cooking up some surprises. Also back? Supernatural's Castiel. And Thundercats. And Mythbusters. On Once Upon a Time, the Who's Roger Daltrey plays a talking caterpillar in Wonderland.
Plus you know the Marvel movies will never give you an Iron Man-Magneto showdown — but you can watch part of one right here, right now. Plus we've got clips from Supernatural, Alcatraz, Vampire Diaries, and other shows. Television is bursting with wonders this week.
Today:
Alcatraz (9 PM, FOX):
This show has been showing a noticeable uptick in quality the past couple of weeks — so this week's episode is bound to be something special as well, right? Or else, it could be about a sweet violin-playing inmate (Rami Malek) who murders women in their lingerie. Yawn. At least it sounds like Webb Porter's blood could be what brings Dr. Sangupta back to life. Witness a sneak peek!
Being Human (9 PM, Syfy):
We're still dealing with the Reaper/Sally standoff, and this time the Reaper imprisons Sally in a dream world. Let's hope the dream world looks just like Deep Space Nine and all the figments of Sally's consciousness are represented by Colm Meaney and Andrew Robinson.
Also tonight: a brand new (to Americans) episode of Lost Girl at 10 PM on Syfy. Plus a dance-themed episode of Castle.
---
Tuesday:
The River (9 PM, ABC):
It's the season finale, following on from last week's ultra-surprising episode in which they actually, you know, found the guy they were looking for. And this week, a member of their crew is shot dead, and this causes Jahel to summon the Boiuna to help, against her father's wishes. Let's hope there's some satisfying resolution here, since this show might not be coming back.
Science Special: Alien Encounters: The Arrival (10 PM, Science):
Another one of Science's recent specials in which they try to capitalize on the popularity of Ancient Aliens and Modern Aliens and the ever-popular Postmodern Aliens. This time: Aliens are showing up, and you can learn how to greet them.
Also on TV tonight: Another Unforgettable, the show about the woman with the mutant super-brain, on CBS at 10 PM.
---
Wednesday:
Voltron Force and Iron Man: Armored Adventures (8 PM, NickToons):
On Voltron Force, Vince's latest prototype brain interface tiara thingy may have a serious effect on Daniel. But more importantly, on Iron Man: Armored Adventures, Tony faces off against Magneto! Yes, Magneto is allowed to show up on a non-X-Men cartoon. Check out the first clip of the Iron Man-Magneto smackdown right here.
South Park and Ugly Americans (10 PM, Comedy Central):
No clue what South Park is about this week. On Ugly Americans, "Randall's powerful new arm gets him a job at the Department of Integration, which needs a ringer for a big intramural football game; and the move could send Mark to the second string."
---
Thursday:
Community (8 PM, NBC):
Enjoy it while it lasts! I can't really explain what happens in this episode better than the official synopsis:
As the study group returns after winter break, Jeff (Joel McHale) reveals that he's been seeing a shrink and he's on anti-anxiety medication. The newfound confidence leads him to experience debilitating levels of narcissism, which Britta (Gillian Jacobs) tries to help him manage. Meanwhile, over the break, Abed (Danny Pudi) developed a celebrity impersonator habit that has saddled him with debt. In order to help Abed shed his debt, the study group dons costumes and goes to work for Vincent (French Stewart, "3rd Rock from the Sun," "The Muppets") as celebrity impersonators - appearing in character at a Bar Mitzvah celebration.
The Vampire Diaries (8 PM, The CW):
Sage, the awesome boxing lady we met in the 1912 flashbacks last week, is turning up in the present day. Huzzah! Here's the synopsis:
A century after their first encounter, Damon (Ian Somerhalder) and Sage (guest star Cassidy Freeman) meet again at the ceremony to kick-off the restoration of Wickery Bridge. Damon is surprised to learn the reason Sage has returned, and pleased when she devises an unusual method to help him figure out what Rebekah (guest star Claire Holt) is up to. Abby (guest star Persia White) is having a hard time adjusting to her new reality, despite Bonnie (Kat Graham) and Caroline's (Candice Accola) efforts to help. When Damon informs Elena (Nina Dobrev) of Stefan's (Paul Wesley) latest struggles, she reaches out to Stefan to help her save a friend in danger, in hopes that it will help bring Stefan even closer to his humanity. Finally, when Damon discovers a new secret weapon, he lets Stefan in on the news.
Here's your first clip. That's followed by a new Secret Circle, in which Cassie deals with her evil dad. Or doesn't, as the case may be.
Touch (9 PM, FOX):
At last, it's the second episode of Fox's new "autistic superkid" show, which aired its pilot a couple of months ago. This time Kiefer Sutherland's mute 11-year-old kid leads him to a pawn shop, where a robbery is linked to a visiting flight attendant, a grieiving visitor from India who's scattering his father's ashes, a magician in Moscow, a cancer patient and a mobster. The episode's title? "1+1=3", which might sum up this show's zany approach to logic. You have to love a show where Danny Glover can say with a straight face, "He sees the entire universe."