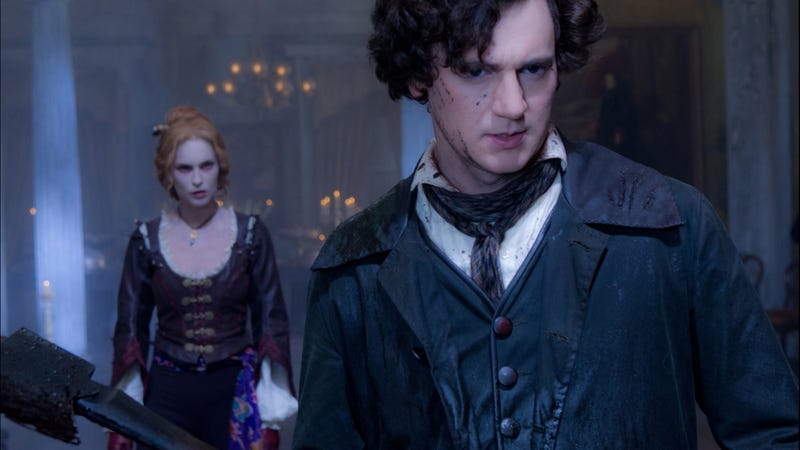 We've seen WonderCon's exclusive Abraham Lincoln: Vampire Hunter footage, and it's chock full of our sixteenth president taking his trusty axe to evil vampires's chests. It's exactly the sort of crazy over-the-top action you'd expect from the director of Wanted!
The footage starts with Abraham Lincoln (Benjamin Walker) and his longtime friend and valet Will Johnson (Anthony Mackie) on a train en route to Gettysburg. Lincoln says they are eighty miles away, and those eighty miles will determine whether the country belongs to the living or the dead. Just then, vampires start jumping onto the sides of the train, and so Lincoln grabs his ax and Will his guns to do battle.
After giving each other a brief look of camaraderie, the pair go to work, with Johnson heading to the top of the train while Lincoln works his way through the cars. A vampire rushes the President, and Lincoln throws his ax straight through the attacker. Above, Will fires his guns, picking off vampires left and right. Lincoln sticks his ax into a beam and uses them to swing into the next vampire and kick it in the chest. Another vampire approaches, and Lincoln uses his ax to choke it and then throws it off the train.
Meanwhile, a female vampire sets a rail bridge on fire - one the train is fast approaching. Back on the train, Will is under heavy fire, and he looks done for until Lincoln pops up and blows a vampire away with the part of his ax that is also a shotgun - you can get a glimpse of that bad boy in the newly released trailer. They look about to win the day, but suddenly Rufus Sewell's head vampire Adam shows up and easily dodges all of Lincoln and Will's suddenly flailing attacks. As some of the train cars fly off the fiery, collapsing bridge, Lincoln and Will try to jump across to one of the cars that still has a chance to make it to the other side.